Take 2: Your Guide to Creating Happy Endings and New Beginnings (Hardcover)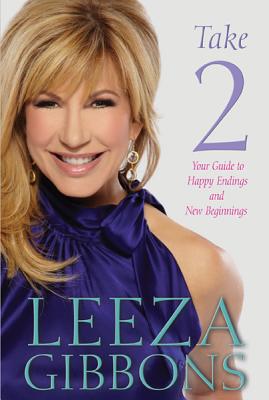 Description
---
If life is an epic saga, who is writing your narrative? Is the plot unfolding as you imagined? Whether you find yourself trudging along in boredom or caught up in a chaotic whirlwind of overcommitment, you can still take creative control and declare that it's Your Life, Your Rules. This is a book about rebooting your story at any point. It's about starting over; taking inventory; and getting smarter, stronger, and sexier with no apologies, no regrets, and no turning back.As Leeza Gibbons explains, "I took control of my journey while in the glare of the spotlight. Now, I'm sharing the life lessons from my 'grits to glitz' path as a wife and mother, caregiver, businesswoman, TV entertainment host, product mogul, kisser of boo-boos, and encourager of dreams. Of course, I have many more roles, just as you do, but I want to approach them all in the same way: fearlessly and without limits. I'll hold up the mirror so that you can see who you really are; knowing that it's the plot twists and turns in your story that makes it powerful.This is your life, and you're about to set out on the path to rewriting your story by reclaiming your power.
About the Author
---
Leeza Gibbons is one of the best-known and most well-loved pop-culture icons on the air and at the top of her game. As a wife, mother, and businesswoman, she has always shared her experiences with her audience. The spectrum of Leeza's career in entertainment and news media—combined with her stunning hands-on advocacy for health care, wellness, and caregivers—is diverse and impressive. Her on-camera hosting dominance in entertainment-news and talk-show arenas ranges from the most popular entertainment news show in history, Entertainment Tonight; to her award-winning daytime talk show, Leeza; to, currently, the syndicated TV news magazine show America Now and the weekly TV news show My Generation on PBS. Recognized as a social entrepreneur, Leeza has become one of the leading voices for issues facing family caregivers. After her family's experience with her mother's and grandmother's Alzheimer's disease, Leeza took action. Her training as a journalist united with her compassion and business savvy when she created the Leeza Gibbons Memory Foundation, a 501 (c)(3); and its signature programs, Leeza's Place and Leeza's Care Connection, which offer free services for family caregivers.Over the years, Leeza has become known as a trusted girlfriend, valued confidante, and source of inspiration and information to empower women to show up for their lives with confidence and pride. Whether it's her scrapbook line honoring the value of memories, her jewelry collection to symbolize transformation, or her beauty products to reveal inner and outer beauty, Leeza develops programs and products to help women claim their strength and rewrite the story of their lives. Websites: www.leezagibbons.com and www.leezasplace.org
Praise For…
---
On your journey from transition to transformation, you'll want to bring Take 2 with you."
- Maria Shriver
"Nothing changes unless something changes and as WE ALL KNOW, change is inevitable no matter how much we cling to the sameness of our lives. Leeza, once again, is a guide, light on her helmet, map in hand, ahead of us as we navigate this thing called LIFE. I, for one, am so glad she is there and that she has written this helpful, healing guide book."
- Jamie Lee Curtis
"I know Leeza is a master of starting over because I've seen her do it! In this book, she takes her real life experiences in career, life and love and shares her wisdom as a girlfriend who really cares."
- Olivia Newton-John
"Sometimes my life feels overwhelming because I take on too much. Read this book and help yourself prioritize without guilt!"
- Kristin Chenoweth
"Since we both work in the entertainment industry, we know how hard it is to stay at the top of your game, but Leeza has managed it for decades. Now we get to see her personal strategy. If you want to restart your life for any reason, let Leeza and her book Take 2 be your guide."
– Giuliana and Bill Rancic
"Leeza is a great positive thinker and manages to make that quality contagious."
- Betty White
"I've known Leeza forever, but not until I read this book did I understand how she did it!! Warm, insightful, inspiring and real, she will make you want to step up to the starting line in your life!"
- Florence Henderson
"If there is a Queen of Reinvention, Leeza takes the crown. This book should be required reading for anyone who is on a path of change."
- Maria Menounous
"Leeza Gibbons inspired me career-wise, and now she is inspiring me in a whole other way with her book, Take 2! I've known Leeza for a long time and her words are ones you'll want to keep nearby. Her positivity shines through with something helpful to read and re-read on every page!"
- Nancy O'Dell
"In a world where wisdom is severely lacking, along comes Leeza- wise, smart and "in touch". I couldn't put this well-written, witty, insightful book down. Another triumph for my very talented friend. "

 -      - Suzanne Somers