Crazy Sexy Kitchen: 150 Plant-Empowered Recipes to Ignite a Mouthwatering Revolution (Hardcover)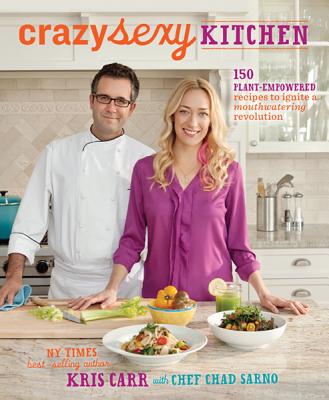 Description
---
The woman who made prevention hot is now making it delicious! Crazy Sexy Kitchen, the follow-up to Kris Carr's New York Times bestseller Crazy Sexy Diet, is a
Veggie Manifesto for plant-empowered gourmands and novices alike, and it's filled with inspiration, education, cooking tips, and over 150 nourishing, nosh-worthy recipes. Infused with her signature humor, style, and personal stories, Crazy Sexy Kitchen redefines the kitchen as headquarters for America's wellness revolution. The goodness born in the Crazy Sexy Kitchen will reach deep into the rest of your life—enriching your health, your home, your heart, and the planet.
Crazy Sexy Kitchen gives readers all the tools and know-how needed to adopt a joyful and vibrant Crazy Sexy Diet and Lifestyle. What is the Crazy Sexy Diet and Lifestyle, you ask? A nutrient-dense, plant-happy approach to eating and living that harmonizes your beautiful body at the cellular level. It's a celebratory way of life that's deeply connected, healthy, awake and engaged. Now that's SEXY!
Like a long, luxurious meal, Crazy Sexy Kitchen is laid out in courses. You'll start with a detailed review of the Crazy Sexy Diet. Next you'll learn how to stock your culinary arsenal. Kris will show you how to find the best kitchen tools and equipment, and prep you with basic culinary skills and lingo. Handy symbols like, gluten-free, soy-free, kid-friendly—and for the time pressed—Crazy Sexy Quickies, help you to easily identify the recipes that are perfect for your dietary needs. Not sure how to put a whole meal together? No problem. Crazy Sexy Kitchen covers that, too—with a hearty dose of menu plans and recipes to inspire and delight.
Joined by Whole Foods chef, Chad Sarno, Crazy Sexy Kitchen offers over 150 delicious, nutrient-dense recipes designed to nourish the mind, body, and soul. From juicing to planning a three-course meal, Crazy Sexy Kitchen has all the essentials to fill your kitchen (and life!) with health, happiness, family, friends, and good times.
About the Author
---
Kris Carr is a multi-week New York Times best-selling author and health advocate. She is the subject and director of the documentary Crazy Sexy Cancer, which aired on TLC and OWN: The Oprah Winfrey Network. Kris is also the author of the groundbreaking Crazy Sexy Cancer book series. Her third book, Crazy Sexy Diet is a wellness game plan for peak health, spiritual wealth, and happiness. Kris regularly lectures at medical schools, hospitals, corporations such as Whole Foods and Harvard University. She is a Contributing Editor for Natural Health magazine and writes for many online publications. TV appearances include: The Today Show, Good Morning America, CBS Evening News, The Early Show, The Revolution, The Gayle King Show, and The Oprah Winfrey Show. As an irreverent foot soldier in the fight against disease, Kris inspires people to take charge of their health and happiness by adopting a plant-based diet, improving lifestyle practices, and learning to live and love with passion. Her motto: Make juice not war! Visit: crazysexylife.com
Praise For…
---
"Kris and Chad make eating healthy a blast! Upon reading this book and trying out a few recipes, you realize that you actually can change your life for the better. You can rev up your body with loads of energy, inspire the healer within, and entertain with the coolest, tastiest food ever! Get ready for some miracles, because this food is going to lift you to higher ground!" — Kathy Freston, New York Times best-selling author of The Lean: A Revolutionary 30 Day Plan for Healthy, Lasting Weight Loss; Quantum Wellness; and Veganist
"By now you'd have to be living under a rock to miss the message that eating mainly plants is good for all of us. What most don't realize is that this way of eating has come a long way in the last decade. Eating your vegetables has never been more delightful and delicious. This book will open your eyes and your palate to a whole new way of life." — Dr. Christiane Northrup
"I can't think of a better team than Kris Carr and Chad Sarno. Kris is a wellness trailblazer. She has inspired countless people to take charge of their health and vastly improve their lives. Chad is a culinary master who has been an integral part of the healthy eating program at Whole Foods Market. His recipes are simple and totally delicious. I hope you enjoy this book and all its powerful wisdom as much as I do." — John Mackey, co-founder and CEO of Whole Foods Market
"Crazy Sexy Kitchen is a must-have for anyone seeking a powerful health and wellness boost. It will revitalize and restore you from the inside out." — Frank Lipman, M.D.
"Let me in the Crazy Sexy Kitchen right now! It is filled with yummy, healing, tummy-satisfying, taste-bursting joy disguised as recipes. If you want to delight your senses and heal your body with every bite, this book is your guide. Kris Carr has done it again with her crazy sexy recipe for fun, food and fulfillment." — Mark Hyman, M.D., author of the #1 New York Times bestseller The Blood Sugar Solution
"Crazy Sexy Kitchen is a brilliant book. I think one of Kris's best lines is 'Your Future is being written with every meal.' For me that really sums up how what we choose to eat determines how we choose to live. Kris is helping us make those choices delicious." — Louise Hay
"Kris Carr titillatingly turns a supermarket into a pharmacy." — Dr. Mehmet Oz
 
"I recommend Kris to you in the highest possible terms . . . She is a fresh, authentic, and empowering voice."
— Marianne Williamson
, best-selling author of The Age of Miracles and A Return to Love
"Kris is the ray of light that is needed to raise awareness . . . a true leader of courage and inspiration." — Donna Karan
"I love Kris, she glows. It's not just because of what she's done, which is extraordinary, it's who she is." — Dean Ornish, M.D.
"Thank God Kris is one of those women who has the courage and generosity to share her experience." — Sheryl Crow
"Kris Carr is a tireless advocate for health and she'll be your coach, confidant, and companion." — Neal Barnard, M.D.
"Kris Carr is a force of nature that brings inspiration and truly helpful information to thousands, me included." — Dr. Alejandro Junger
"Kris Carr's riveting journey started a revolution …" — Oprah Winfrey