Directing Our Inner Light: Using Meditation to Heal the Body, Mind, and Spirit (Paperback)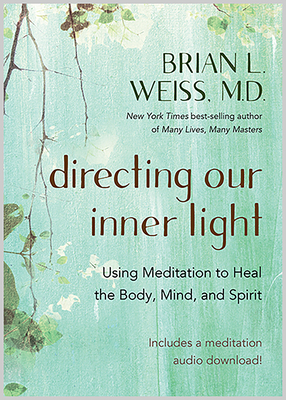 Description
---
Brian L. Weiss, M.D., psychiatrist and New York Times best-selling author, offers soothing sanity in turbulent times. This short course in meditation gives readers the tools they need for physical, emotional, and spiritual healing, and includes an audio download of a guided meditation.

This book was previously published by Hay House as Meditation: Achieving Inner Peace and Tranquility in
Your Life.

In Directing Our Inner Light, Brian L. Weiss, M.D., offers an audio download of a guided meditation and explains the techniques he has used to help thousands of patients around the world harness the healing powers of meditation. You'll learn how relaxation, visualization, and regression can be used to release fears in a holistic way, strengthen the immune system, and alleviate chronic pain and illness, among other benefits.

The practice of meditation also helps rid the mind of stress, intrusive thoughts, and the pressures of the world, opening you up to what's truly important. The more you meditate, the further you move away from the level of everyday consciousness (encompassing frustration, anxiety, and worry), and the closer you draw to the higher perspective of enlightenment. As you progress along this path, it becomes easier to achieve increasingly higher levels of spirituality.
About the Author
---
Brian L. Weiss, M.D., is America's leading authority on past-life regression therapy and the author of multiple books, including the New York Times bestseller Many Lives, Many Masters. As a traditional psychotherapist, he was astonished and skeptical when one of his patients began recalling past-life traumas that seemed to hold the key to her recurring nightmares and anxiety attacks. His skepticism was eroded, however, when she began to channel messages from "the space between lives" that contained remarkable revelations about Dr. Weiss's family and his dead son. Using past-life therapy, he was able to cure the patient and embark on a new, more meaningful phase of his own career.

A graduate of Columbia University and Yale Medical School, Dr. Weiss is also chairman emeritus of psychiatry at the Mount Sinai Medical Center in Miami. He conducts national and international seminars and experiential workshops as well as training programs for professionals.