Rewilding Childhood: Raising Resilient Children Who Are Adventurous, Imaginative and Free (Paperback)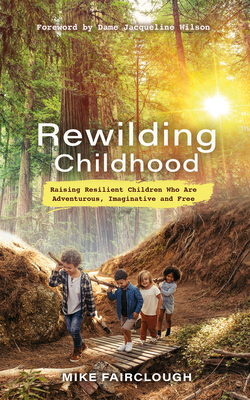 $19.99

Not Available In-Store - Usually Ships from Warehouse in 1-5 Days
Description
---
Mike Fairclough invites parents to facilitate their children's naturally rebellious nature to help them thrive in a turbulent world.

Discover the revolutionary path to incredible parenting and embrace your child's free spirit, inspire their imagination and prepare them for a confident, empowered future.

Foreword by Dame Jacqueline Wilson.

This isn't your average parenting book. This is a call for rebellion; a liberating, transformative, joyful rebellion, proven to inspire confidence and resilience.

Encouraging children to explore and reconnect with their adventurous side is more important than ever. Rewilding Childhood offers game-changing tools and techniques to help you raise empowered children who will thrive in this unpredictable world. You'll find out how climbing trees instils a healthy attitude to risk, how adventuring into fields and forests cultivates gratitude, and how getting messy with a paintbrush can liberate a child and elevate their confidence. Full of down-to-earth advice, honesty and positivity, this book will encourage both you and your child to move beyond the boundaries of everyday life to become self-assured, secure and, above all, happy.
About the Author
---
Mike Fairclough is the Headmaster of West Rise Junior School in East Sussex and author of Playing with Fire. His initiatives at the school have received national and international acclaim and have been featured on the BBC, Channel 4, ITV, and in many national newspapers.
Praise For…
---
'Mike Fairclough says such wise and wonderful things it could change your life forever.' - Dame Jacqueline Wilson, bestselling children's author

'Mike Fairclough is a remarkable and visionary human being who has made it his life's mission to bring happiness to adults and children alike.' - Richard Gerver, award-winning speaker and bestselling author

'He is, after all, the man who hit the headlines for his unorthodox take on education at West Rise, the East Sussex school where he has put rabbit-skinning, shooting and fire-making alongside mathematics and verbal reasoning on the curriculum… Mike is on a mission.' - Daily Mail

'Fairclough is not just unwrapping the cotton wool from around his children, he's throwing it with glee onto the campfire.' - Sunday Telegraph

'Mike Fairclough is doing something magical at West Rise Junior School – magic that has drawn the eyes of educators from around the world.' - Professor Barbara Oakley, New York Times bestselling author