Calm Your Gut: A Mindful and Compassionate Guide to Healing IBD and IBS (Paperback)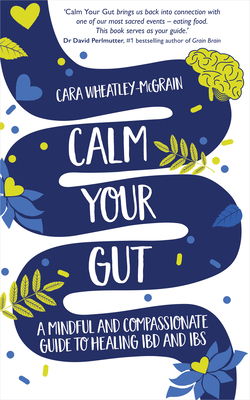 $22.99

Not Available In-Store - Usually Ships from Warehouse in 1-5 Days
Description
---
A holistic guide to healing gut problems, such as IBD and IBS, with healthy, compassionate methods.

Discover a unique toolkit of science, self-compassion, and intuitive eating practices to help you understand, love, and heal your gut.

Why do so many of us suffer from gut health problems such as IBS and IBD? And what can we do to feel better? Cara Wheatley-McGrain has the solution. She offers a compassionate, holistic approach to calming and healing your gut. Inspired by her own healing journey following a flare-up that left her just hours away from having her colon removed in hospital, Cara shares tried-and-tested methods, simple exercises and tasty recipes to heal your gut and dramatically improve your health at every level. You'll find out how to:



heal your gut in a sustainable, healthy way
develop highly effective mindfulness practices in relation to both food and lifestyle
create delicious, gut-friendly meals with Cara's creative, simple recipes
incorporate simple daily rituals such as breathing techniques and visualization into your routine

Follow Cara's guidance and you can cultivate a lifestyle that helps you to love, cherish, and heal your gorgeous gut. You'll be able to reduce bloating, calm gut problems, and improve your overall health and wellbeing with this compassionate, holistic approach to being mindful with your microbiome.
About the Author
---
Cara Wheatley-McGrain is an expert patient, mindfulness and meditation practitioner, and educational consultant. She's been living with IBD and IBS for twenty years. When Cara was hospitalized and hours away from losing her colon, she experienced an 'out of body experience'. This spiritual awakening gave her the knowledge that she could heal, and she has taken a 'whole life approach' to healing IBD ever since.
Praise For…
---
'[Calm Your Gut] brings us back into connection with one of our most sacred events – eating food. This is one of the most powerful experiences in our day as, well beyond the simple provision of nutrients, the foods we choose to consume gift us an intense array of information that influences not only our metabolism and that of our gut microbes, but the expression of our DNA as well. It's time we embrace the profound nature of this seemingly mundane event and [this book] serves as your guide.' - Dr David Perlmutter, #1 New York Times bestsellingauthor of Grain Brain and Brain Wash

'Cara Wheatley-McGrain puts the heart into the science of the human microbiome. Warm, helpful, comprehensible, practical and scientifically accurate, I would recommend this book to anyone who wants a wise and resourceful companion on their journey to true gut health.' - Shann Nix Jones, Director of Chuckling Goat and bestselling author of The Kefir Solution

'[Calm Your Gut] will transform the gut of anyone who reads it. It's a refreshing take on being compassionate and loving your gut so much that your life and gut change naturally and organically. This book is just as fascinating as our digestive system! I recommend this book to anyone who struggles with gut issues including bloating, IBS, IBD, Crohn's disease, and even acne and psoriasis. If you want to become the architect of your own gut and health you will be glad you spent the time reading this book!' - Liana Werner-Gray, nutritionist and bestselling author of The Earth Diet

'A fascinating and insightful book. Cara not only teaches us why gut health is so vitally important for mental and physical health, but she compassionately guides us through a diverse range of helpful strategies for improving our gut health and inspires us to take control of our health.' - David R. Hamilton PhD, author of How Your Mind Can Heal Your Body

'A healthy gut is not only the foundation of our physical health; it is also critical to our mental and emotional health. Equally, to heal our gut we can't just work with the physical aspects, we also have to work with our mind and emotions. Cara Wheatley-McGrain offers a practical and inspiring approach to gut healing on each of these levels, rooted in her own lived experience.' - Alex Howard, Founder & Chairman of The Optimum Health Clinic and author of Decode Your Fatigue

'Never before have I encountered a book on gut health that feels like a warm hug. In these sterile living conditions, knowledge of ways to boost our gut health is vital and [Calm Your Gut] manages to empower us with such heart and deep authenticity. Cara's lived experience cultivates a real sense of understanding, and I love the relatable and practical nature of her soothing suggestions. This is a welcome new approach to gut health, anchored in compassion, self-insight and real holistic health. So refreshing.' - Suzy Reading, psychologist and author of Self-care for Tough Times

'Cara has a wonderful style and brings what is perhaps our most underrated organ – the gut – to life. She has lovingly joined together personal experience, scientific research and expert advice, all embedded in compassion, to develop your must-have handbook for all things wellbeing.' - Dr Jenna Macciochi, author of Immunity: The Science of Staying Well