The Water Wars (Hardcover)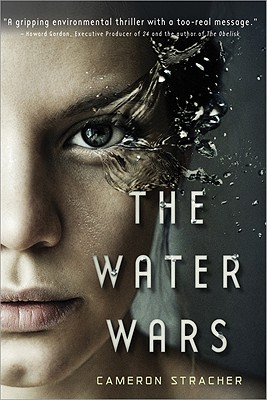 $16.99
Special Order - Subject to Availability
Description
---
Would you risk everything for someone you just met?
What if he had a secret worth killing for?
Welcome to a future where water is more precious than oil or gold...
Hundreds of millions of people have already died, and millions more will soon fall-victims of disease, hunger, and dehydration. It is a time of drought and war. The rivers have dried up, the polar caps have melted, and drinkable water is now in the hands of the powerful few. There are fines for wasting it and prison sentences for exceeding the quotas.
But Kai didn't seem to care about any of this. He stood in the open road drinking water from a plastic cup, then spilled the remaining drops into the dirt. He didn't go to school, and he traveled with armed guards. Kai claimed he knew a secret-something the government is keeping from us...
And then he was gone. Vanished in the middle of the night. Was he kidnapped? Did he flee? Is he alive or dead? There are no clues, only questions. And no one can guess the lengths to which they will go to keep him silent. We have to find him-and the truth-before it is too late for all of us.
"Let us pray that the world which Cameron Stracher has invented in The Water Wars is testament solely to his pure, wild, and brilliant imagination, and not his ability to see the future. I was parched just reading it." -Laurie David, Academy Award-winning producer of An Inconvenient Truth and author of The Down to Earth Guide to Global Warming
"A gripping environmental thriller with a too-real message." - Howard Gordon, executive producer of 24 and author of Gideon's War
About the Author
---
Cameron Stracher practices and teaches law. His writing has appeared in the "New York Times," the "New York Times Magazine," and the "Wall Street Journal," among other publications. He lives in Westport, CT, with his wife, two children, and two dogs, not necessarily in that order.