Leviathan (Large Print / Hardcover)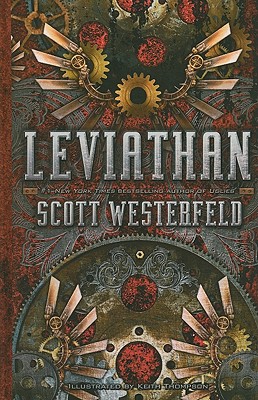 Staff Reviews
---
This is World War I like you've never imagined! Alek is the prince of the Austro-Hungarian Empire and he's on the run. His people have turned on him and he must flee to neutral Switzerland. Deryn Sharp was born to fly and she's ready to join the British Air Service. But there's one problem; she's a girl and girls aren't allowed to serve. Will her scheme to dress up as a boy and join work? Will Alek be able to smuggle himself past his own country's war machines? In this alternative vision of the past, Europe becomes entangled in war as Alek and Deryn's destinies become entangled with each other. Complimented by brilliant illustrations, this steampunk story is action packed from start to finish!
—
Alli D.
Winter 2009 Kids' List
---
"Leviathan is a fantastic and beautifully illustrated steampunk version of The Great War. In this alternate universe, the Clankers put their faith in elaborate steam-powered machines and the Darwinists manage huge living airships that are whole ecosystems. But this is mostly the story of two 15-year-olds who are both hiding secrets. Prepare yourself for an adventurous ride."
— Joanne R. Fritz, Chester County Book & Music Company, West Chester, PA
Description
---
In an alternate 1914 Europe, fifteen-year-old Austrian Prince Alek, on the run from the Clanker Powers who are attempting to take over the globe using mechanical machinery, forms an uneasy alliance with Deryn who, disguised as a boy to join the British Air Service, is learning to fly genetically-engineered beasts.