Cress (Lunar Chronicles #3) (Large Print / Hardcover)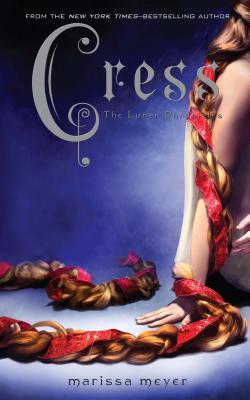 Other Books in Series
This is book number 3 in the Lunar Chronicles series.
Staff Reviews
---
I've been addicted to Marissa Meyer's dystopian fairy tales since I first laid eyes on Cinder (in some cases you really can judge a book by the cover!) Now with Cress, Meyer continues Cinder's and Scarlet's stories and adds another—her fractured version of Rapunzel. Cress is an expert hacker and has been trapped in a satellite orbiting Earth and her native Lunar since she was a little girl. Now she is a teenager and ready to break free by whatever means necessary. She is the Damsel in Distress, now where is her Prince Charming? I couldn't put this down and, even though it is a hefty 500-odd pages, I wanted it to just keep going! Winter can't come fast enough!
—
Lauren's Staff Picks
Description
---
In this third book in the bestselling Lunar Chronicles series, Cinder and Captain Thorne are fugitives on the run, now with Scarlet and Wolf in tow. Together, they're plotting to overthrow Queen Levana and prevent her army from invading Earth.
Their best hope lies with Cress, a girl trapped on a satellite since childhood who's only ever had her netscreens as company. All that screen time has made Cress an excellent hacker. Unfortunately, she's being forced to work for Queen Levana, and she's just received orders to track down Cinder and her handsome accomplice.
When a daring rescue of Cress goes awry, the group is splintered. Cress finally has her freedom, but it comes at a higher price than she'd ever expected. Meanwhile, Queen Levana will let nothing prevent her marriage to Emperor Kai, especially the cyborg mechanic. Cress, Scarlet, and Cinder may not have signed up to save the world, but they may be the only hope the world has.

About the Author
---
Marissa Meyer's first two books in the Lunar Chronicles, "Cinder" and "Scarlet," debuted on the "New York Times "bestseller list. Marissa lives in Tacoma, Washington, with her husband and their three cats. Visit her at www.marissameyer.com.