The Edge of Normal (Large Print / Hardcover)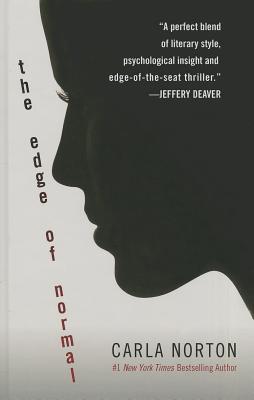 Staff Reviews
---
Norton's debut thriller, featuring a girl who endured unimaginable torture at the hands of her kidnapper, definitely takes the reader to the edge! Upon starting the book, I only managed to tear myself away to make sure all my doors and windows were locked and secured. Other than that, I hid in my bed reading to the very end! I would recommend this book to anyone who loves a good psychological thriller, and I hope to see more fiction from this author!
—
Lauren's Staff Picks
Description
---
''Norton has given us living, breathing characters that we know and understand . . . and who inhabit our imaginations after we've finished this book." --Jeffery Deaver
In many ways, Reeve LeClaire looks like a typical twenty-two year old girl. She's finally landed her own apartment, she waitresses to pay the bills, and she wishes she wasn't so nervous around new people. She thinks of herself as agile, not skittish. As serious, not grim. But Reeve is anything but normal.
Ten years ago, she was kidnapped and held captive. After a lucky escape, she's spent the last six years trying to rebuild her life, a recovery thanks in large part to her indispensable therapist Dr. Ezra Lerner. But when he asks her to help another girl rescued from a similar situation, Reeve realizes she may not simply need to mentor this young victim--she may be the only one who can protect her from a cunning predator who is still out there, watching every move.
From the author of the #1 non-fiction bestseller "Perfect Victim: The True Story of the Girl in the Box" comes a novel that draws you into a chilling and engrossing world. With powerfully gripping characters and an ending that is a masterpiece of deception, Carla Norton's "The Edge of Normal" is a stunning debut thriller.
About the Author
---
CARLA NORTONis the author of the #1 "New York Times" bestseller "Perfect Victim, "which the FBI put on their Behavioral Sciences Unit reading list. She served as the special sections editor for the San Jose Mercury News and has written for numerous publications. She has an MFA from Goddard College and has twice served as a judge for the Edgar Awards. "The Edge of Normal, "which won a Royal Palm Literary Award for best unpublished mystery, is her debut novel. She lives in California and Florida.