Voracious: A Hungry Reader Cooks Her Way Through Great Books (Large Print / Hardcover)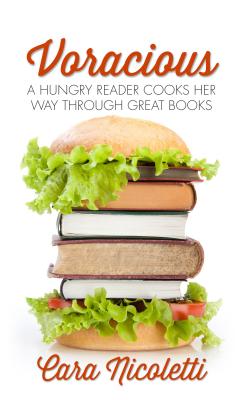 $32.99
Special Order - Subject to Availability
Staff Reviews
---
In her preface, Nicoletti writes, "I fell in love with cooking through reading." I know exactly what she means. Some of my favorite scenes from literature involve lengthy descriptions of food. Remember the hot, buttery pancakes eaten by the stack in Pippi Longstocking's kitchen? Or Almanzo Wilder tucking into a farm-fresh Sunday dinner? Chocolate frogs aboard the Hogwarts express, and mouthwatering Turkish delights? (And I didn't even know what a Turkish delight was!) Growing up, books were Nicoletti's comfort food. Later, working as a chef, she started inventing dishes inspired by the the novels she and her friends devoured -- and a Book-Supper-Club was born. You'll drool over the recipes, but even better, after reading vignettes about the ways these novels shaped her life, you'll have a ready-made reading list the next time you visit!
—
Emmy
Description
---
AN IRRESISTIBLE LITERARY FEAST Stories and recipes inspired by the world's great books As a young bookworm reading in her grandfather's butcher shop, Cara Nicoletti saw how books and food bring people to life. Now a butcher, cook, and talented writer, she serves up stories and recipes inspired by beloved books and the food that gives their characters depth and personality.
From the breakfast sausage in Laura Ingalls Wilder's Little House in the Big Woods to chocolate cupcakes with peppermint buttercream from Jonathan Franzen's The Corrections, these books and the tasty treats in them put her on the road to happiness.
Cooking through the books that changed her life, Nicoletti shares fifty recipes, including: The perfect soft-boiled egg in Jane Austen's "Emma" Grilled peaches with homemade ricotta in tribute to Joan Didion's "Goodbye to All That" New England clam chowder inspired by Herman Melville's "Moby-Dick" Fava bean and chicken liver mousse crostini (with a nice Chianti) after Thomas Harris's "The Silence of the Lambs "Brown butter crepes from Gillian Flynn's "Gone Girl"
Beautifully illustrated, clever, and full of heart, Voracious will satisfy anyone who loves a fantastic meal with family and friends-or curling up with a great novel for dessert.
About the Author
---
Cara Nicoletti is a butcher, former pastry chef, and author of the literary recipe blog Yummy Books. She comes from a long line of butchers in Boston, Massachusetts, and has been working in restaurants since she moved to New York in 2004. She lives in Brooklyn, teaches sausage making at the Brooklyn Kitchen, and became a butcher at the Meat Hook.Illustrator Marion Bolognesi lives and works in New York City and has exhibited her paintings around the globe. Her website is Marion-B.com.