Liberty and Tyranny: A Conservative Manifesto (Paperback)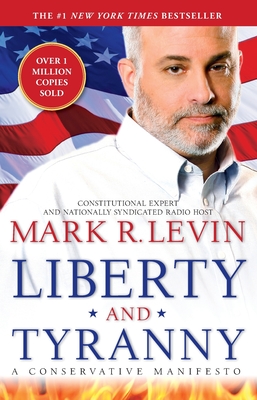 $16.99

Not Available In-Store - Usually Ships from Warehouse in 1-5 Days
Description
---
Don't miss syndicated radio host and author Mark Levin's #1 New York Times acclaimed and longtime bestselling manifesto for the conservative movement.

When nationally syndicated radio host Mark R. Levin's Liberty and Tyranny appeared in the early months of the Obama presidency, Americans responded by making his clarion call for a new era in conservatism a #1 New York Times bestseller for an astounding twelve weeks. As provocative, well-reasoned, robust, and informed as his on-air commentary, with his love of our country and the legacy of our Founding Fathers reflected on every page, Levin's galvanizing narrative provides a philosophical, historical, and practical framework for revitalizing the conservative vision and ensuring the preservation of American society.

In the face of the modern liberal assault on Constitution-based values, an attack that has resulted in a federal government that is a massive, unaccountable conglomerate, the time for reinforcing the intellectual and practical case for conservatism is now. In a series of powerful essays, Levin lays out how conservatives can counter the tyrannical liberal corrosion that has filtered into every timely issue affecting our daily lives, from the economy to health care, global warming to immigration, and more.
About the Author
---
Mark R. Levin, nationally syndicated talk radio host, host of LevinTV, chairman of Landmark Legal Foundation, and the host of the Fox News show Life, Liberty, & Levin, is the author of seven consecutive #1 New York Times bestsellers: Liberty and Tyranny, Ameritopia, The Liberty Amendments, Plunder and Deceit, Rediscovering Americanism, Unfreedom of the Press, and American Marxism. Liberty and Tyranny spent three months at #1 and sold more than 1.5 million copies. His books Men in Black and Rescuing Sprite were also New York Times bestsellers. Levin is an inductee of the National Radio Hall of Fame and was a top adviser to several members of President Ronald Reagan's cabinet. He holds a BA from Temple University and a JD from Temple University Law School.
Praise For…
---
"The necessary book of the Obama era." -- Jeffrey Lord, The American Spectator

"Levin has delivered a stalwart conservative manifesto written by a conservative who doesn't want to re-brand and repackage conservatism into liberalism. He draws on founding principles, not polls, to lay out the agenda for the Right -- and to illuminate the fatal flaws of statism." -- Michelle Malkin

"This is quite simply the most important book of our times." -- Scott Miller, The Conservative Post

"This has the answer for everything you've asked yourself about yourself, and why you believe what you believe." -- Rush Limbaugh

"Liberty and Tyranny is Mark Levin: a man who loves his family and country and believes ideas have consequences -- and therefore will fight passionately for what he believes and knows to be true." -- Kathryn Jean Lopez, National Review

"While it may present itself as a "conservative manifesto" (and it is that, too) it is also a compelling primer on the most basic principles of the American political order." -- Gary L. McDowell, American Thinker

"Mark Levin's Liberty and Tyranny: A Conservative Manifesto couldn't be more relevant or important. It is a masterful restatement of conservative principles that is succinct...and yet comprehensive. It is thoughtful and deep but highly readable. It is timely yet timeless." -- David Limbaugh, TownHall.com

"This is a superbly useful book. It is the perfect companion for the college freshman to fortify the student against what he or she is about to hear. It is an ideal detoxicant for the graduating senior. Most vitally, it should be read by those who do not consider themselves conservatives, because it carefully lays out the central historic, philosophic and constitutional relationship between conservative principles and our individual freedom." -- Tony Blankley, The Washington Times

"If you want to rediscover true conservatism, read Mark Levin's Liberty and Tyranny. If you want to help preserve liberty, buy copies for your kids." -- Terry Jeffrey, CNS News

"It is a rarity that an important book arrives at its perfect moment. Such is the case with Liberty and Tyranny: A Conservative Manifesto...Against this tidal wave, Mark Levin offers not so much a defense as a plan of attack, a clarion call to roll back the seas of Change." -- Andrew C McCarthy, The New Criterion