Oaxaca: Home Cooking from the Heart of Mexico (Hardcover)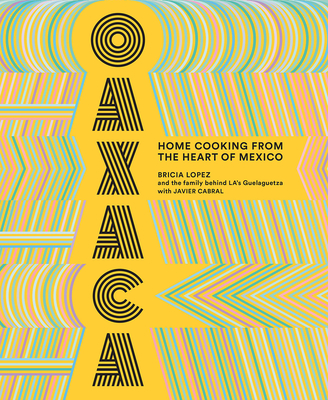 $45.00

Not Available In-Store - Usually Ships from Warehouse in 1-5 Days
Description
---
Bricia Lopez's Oaxaca is a colorful celebration of Oaxacan cuisine from her family's landmark Guelaguetza restaurant in Los Angeles, co-written with food writer Javier Cabral.
"Bricia and her family are true culinary ambassadors, sharing the ingredients, the stories, and the flavors of her native Oaxaca. . . . Now we all get the chance to hear the stories and taste the food that makes Oaxaca one of the best places to eat on Earth." ―José Andrés, chef, entrepreneur, philanthropist
Oaxaca is the culinary heart of Mexico, and since opening its doors in 1994, Guelaguetza has been the center of life for the Oaxacan community in Los Angeles.
The first true introduction to Oaxacan cuisine by a native family, each dish articulates their story, from Oaxaca to the streets of Los Angeles and beyond. Showcasing the "soul food" of Mexico,
Oaxaca
offers 140 authentic-yet-accessible recipes using some of the purest pre-Hispanic and Indigenous ingredients available. Sections and recipes include:
The Staples of Oaxaca
Antojitos Oaxaquenos (Tamales and Finger Foods)

​Tamales de Mole Negro
Tacos de Chapulin y Chicharrón

Sopas y Caldos (Soups)

​Pollo en Salsa Verde con Papas y Nopales
Caldo de Pata

Our Moles

​Mole Negro
Mole Verde con Puerco

Family Meals

​Chiles Rellenos de Picadillo
Tacos de Barbacoa de Chivo

Breakfast

​Chilaquiles
Huevos Rancheros

Salsas

​Salsa de Tomatillo
Guacamole

Mezcal Cocktails, Aguas Frescas, and Our Michelada

​Pasión de Oaxaca
Sparkling Limonada

And more!
Lopez writes in her introduction, "In Zapoteco, the thousand-year-old Indigenous language still spoken in Oaxaca, the word for
aciento
(pork rind paste) is the same word that is used for children, which is the name of the toasted chicharron paste that we smear on tortillas. That is how important food is to us. In our Indigenous languages, we use our staple food to describe us as children." When you try her recipes, you'll know why food and life are so connected, vibrant, and essential to the people of Oaxaca.
From their signature pink horchata to the formula for the Lopez's award-winning mole negro,
Oaxaca
demystifies this essential cuisine.
Includes Color Photographs
About the Author
---
Bricia Lopez comes from a long lineage of Oaxaca Mezcal craftsmen, and grew up in her grandmother's kitchen. Lopez is the co-proprietor of Guelaguetza. She lives in Los Angeles.
Praise For…
---
"Bricia and her family are true culinary ambassadors, sharing the ingredients, the stories, and the flavors of her native Oaxaca. To me, they have achieved the true American dream—they have brought with them all of the very best from their home, providing an amazing space for community, for family, for the people of Los Angeles . . . and now we all get the chance to hear the stories and taste the food that makes Oaxaca one of the best places to eat on earth."
— José Andrés

"From its powerful and important dedication, to its enticing introduction, alluring photographs and recipes, the thrilling new cookbook Oaxaca accomplishes that rare feat of capturing a place so vividly it not only make you want to go there, it brings you there by simply picking up this wonderful tribute to a land and its people. Let's lift a glass of mezcal to Bricia Lopez and the family behind LA's Guelaguetza."
— Nancy Silverton

"Bricia and her family built an amazing space to share the flavors and the stories of their native Oaxaca. Her journey is inspiring: Like any other migrant family they brought to the United States their very own cuisine, but they also created a place for community, for the people of Los Angeles, a place where you can feel at home. Now we have the chance to read the stories and taste the food that makes Oaxaca one of the best places to eat on earth."
— Enrique Olvera

"I grew up in Ktown in and out of 8th street, aka the Oaxacan corridor where their first restaurant was. Now it's located in the buffet building I used to eat at as a kid on Olympic. And soon, Mama Rabbit is gonna open right next door to my restaurant Best Friend in Las Vegas. I can't seem to shake the Guelaguetza family. We are forever linked and I'm mole than happy for that!"
— Roy Choi

"This inspiring and delightful cookbook, full of excellent and easy-to-follow recipes, confirms that Oaxaca is not only one of Mexico's most important food regions, it is one of the most important in the world."
— James Oseland