A Fatal Thing Happened on the Way to the Forum: Murder in Ancient Rome (Paperback)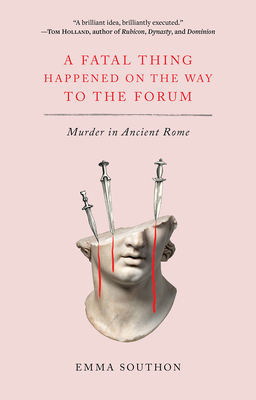 Description
---
An entertaining and informative look at the unique culture of crime, punishment, and killing in Ancient Rome from author Emma Southon, cohost of the History is Sexy podcast.

"I love this funny, scholarly, erudite, irreverent book." —Sarah Perry, national bestselling author of The Essex Serpent

In Ancient Rome, all the best stories have one thing in common—murder. Romulus killed Remus to found the city, Caesar was assassinated to save the Republic. Caligula was butchered in the theater, Claudius was poisoned at dinner, and Galba was beheaded in the Forum. In one 50-year period, 26 emperors were murdered.

But what did killing mean in a city where gladiators fought to the death to sate a crowd? In A Fatal Thing Happened on the Way to the Forum, Emma Southon examines a trove of real-life homicides from Roman history to explore Roman culture, including how perpetrator, victim, and the act itself were regarded by ordinary people. Inside Ancient Rome's darkly fascinating history, we see how the Romans viewed life, death, and what it means to be human.
About the Author
---
Dr. Emma Southon holds a PhD in ancient history from the University of Birmingham. The author of Marriage, Sex and Death: the Family and the Fall of Rome and Agrippina, she cohosts a history podcast with writer Janina Matthewson called History is Sexy, and works full time as a bookseller at Waterstones Belfast.
Praise For…
---
"Ms. Southon...has a rare gift for immersing herself in the world of the Romans and embracing its strangeness while keeping the door of critical distance ajar...Her writing gives the impression that she's having the time of her life and wants to bring us, her besties, along for the ride... At a moment when the study of classics struggles to escape its starchy, imperialist legacy, Ms. Southon's cheeky enthusiasm feels like the path of salvation."

— Wall Street Journal

"Emma Southon has found a most rewarding path by focusing on real-life murders of the era to illustrate how Romans saw life, death, and themselves. Julius Caesar, of course, earns a chapter, but the author presents an astonishing docket of cases that bring vividly alive (with a dash of wit) what Romans feared the most."

— Air Mail

"Along the way, Southon works in intriguing history lessons about Roman law, politics, marriage, and sport, and makes breezy yet enlightening analogies…This colorful chronicle of ancient Rome has an appealingly modern sensibility."

— Publishers Weekly

"Remus, Caesar, Caligula, Claudius. Murder was all the rage in ancient Rome. Historian and podcast host Emma Southon is a lively guide to all manner of mayhem—in this case when an emperor was not a victim of murder, but interested in cracking a thorny case."
— Atlas Obscura

"This narrative style provides not only humor but a sense of relevance to today's world... Brutal, graphic, amusing, and enthralling, this work is a must-read for true crime fans as well as history lovers"

— Booklist

"a witty and erudite summary of murder and death as a part of Roman daily life...Emma Southon will guide you through the bloody annals of history and give you an entertaining and appropriate commentary while doing so."
— Historical Novels Review

"A brilliant idea, brilliantly executed."

— Tom Holland, author of Rubicon, Dynasty and Dominion

"I love this funny, scholarly, erudite, irreverent book."

— Sarah Perry, author of The Essex Serpent

"Blood, guts, murder, emperors, and a sprinkling of uplifting Latin. A wonderful book on the Roman way of death. Mirabile dictu!"

— Harry Mount, author of Carpe Diem: How to Become a Latin Lover