Take Control of Your Drinking: A Practical Guide to Alcohol Moderation, Sobriety, and When to Get Professional Help (Johns Hopkins Press Health Books) (Paperback)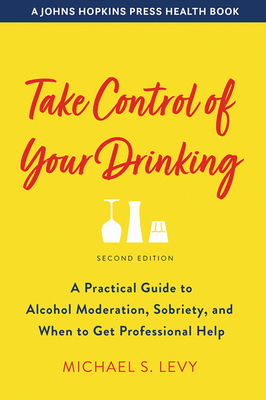 $18.95

Not Available In-Store - Usually Ships from Warehouse in 1-5 Days
Description
---
Accepting that there is no one-size-fits-all approach to controlling drinking, the latest edition of this bestselling book will help you assess your drinking and determine whether moderation or abstinence is the best path for you.
For decades, the standard treatment for people struggling with alcohol consumption has focused on convincing them to admit that they are an alcoholic, to stop drinking entirely, and to enter into a program, most commonly Alcoholics Anonymous. But in his more than thirty-five-year career as an addiction specialist working with people who want to change their drinking habits, Michael S. Levy has found that the routes to behavioral change actually vary. And although abstinence is the successful route for many people, others can moderate their drinking on their own or with professional help.
In this practical, effective, and compassionate book, Levy helps people take control of their alcohol problem by teaching them how to think about and address their drinking habits. Beginning with a set of self-assessments that reveal whether the reader's use of alcohol is creating problems, Levy explains the causes of problem drinking, discusses the growing recognition of the various ways an alcohol use disorder can show itself, and talks about why it is so difficult to change. Offering advice for choosing between moderating your drinking or abstaining altogether, he also touches on coping with slipups, fighting helplessness and the fear of failure, and knowing when moderation is not achievable.
The book is unique in that instead of telling people what they need to do, it meets people at their stage of change and level of readiness to change and helps them decide for themselves what they need to do. Drawing on the latest scientific evidence, this new edition includes
- a chapter on the concept of self-medication--a useful but at times overused idea;
- a chapter on the concurrent use of drugs (particularly cannabis) during recovery;
- an exploration of modern strategies for dealing with drinking, including technology (apps that count drinks, for example) and medications that curb alcohol consumption;
- reflections on the use of stigma;
- communication strategies for individuals seeking to share their struggle with others;
- an exploration of common triggers;
- additional worksheets and tips to achieve success;
- further material about self-help programs; and
- insights about the dark side of addiction treatment.
Ultimately, Take Control of Your Drinking empowers people to tackle their drinking problem and gives them the freedom to do so in a way that fits with their own lifestyle and values. This book is useful for anyone who may find that they are drinking too much, for the loved ones of such people, and for clinicians who want to broaden their skills when working with people who struggle with alcohol.
About the Author
---
Michael S. Levy, PhD, is a clinical success manager at DynamiCare Health and maintains a private practice in psychotherapy. He is the author of Celebrity and Entertainment Obsession: Understanding Our Addiction.