My Hero Academia, Vol. 1 (My Hero Academia #1) (Paperback)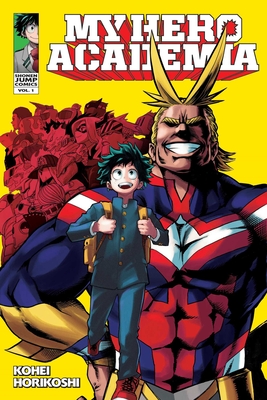 Other Books in Series
This is book number 1 in the My Hero Academia series.
Staff Reviews
---
If you like superheroes but are more realistic this is the book for you. Deku is a child who was born without a quirk (aka powers) but soon he develops one. You follow his story through going to school that has a Hero Program (because honestly if quirks were real this would be a thing). During his time at school he encounters teachers and mentors who aspire to help him and his classmates as well as villains and vigilantes who express their beliefs about hero society. This series has so many characters that you can find someone you like and if you are the fan of the anime I suggest picking this up. Not only does the author give you insight into the characters' likes and dislikes, they tell you a little more about them that isn't shown in the anime. Also they discuss features that are a part of the heroes' costumes. — From Mercedes' Picks (page 2)
Description
---
Midoriya inherits the superpower of the world's greatest hero, but greatness won't come easy.

What would the world be like if 80 percent of the population manifested superpowers called "Quirks"? Heroes and villains would be battling it out everywhere! Being a hero would mean learning to use your power, but where would you go to study? The Hero Academy of course! But what would you do if you were one of the 20 percent who were born Quirkless?

Middle school student Izuku Midoriya wants to be a hero more than anything, but he hasn't got an ounce of power in him. With no chance of ever getting into the prestigious U.A. High School for budding heroes, his life is looking more and more like a dead end. Then an encounter with All Might, the greatest hero of them all, gives him a chance to change his destiny…
About the Author
---
Kohei Horikoshi was born in Aichi, Japan, in 1986. He received a Tezuka Award Honorable Mention in 2006, and after publishing several short stories in Akamaru Jump, his first serialized work in Weekly Shonen Jump was Oumagadoki Zoo in 2010. My Hero Academia is his third series in Weekly Shonen Jump.