How to Know the Birds: The Art and Adventure of Birding (Hardcover)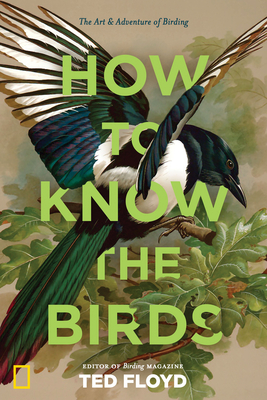 Description
---
Become a better birder with brief portraits of 200 top North American birds. This friendly, relatable book is a celebration of the art, science, and delights of bird-watching.

How to Know the Birds introduces a new, holistic approach to bird-watching, by noting how behaviors, settings, and seasonal cycles connect with shape, song, color, gender, age distinctions, and other features traditionally used to identify species. With short essays on 200 observable species, expert author Ted Floyd guides us through a year of becoming a better birder, each species representing another useful lesson: from explaining scientific nomenclature to noting how plumage changes with age, from chronicling migration patterns to noting hatchling habits. Dozens of endearing pencil sketches accompany Floyd's charming prose, making this book a unique blend of narrative and field guide. A pleasure for birders of all ages, this witty book promises solid lessons for the beginner and smiles of recognition for the seasoned nature lover.
About the Author
---
TED FLOYD has written four books, most recently ABA Field Guide to Birds of Colorado, and more than 150 popular articles, technical papers, and book chapters on birds and natural history. He is the author of Smithsonian Field Guide to the Birds of North America, published by HarperCollins in 2008, which received a starred review in Publishers Weekly. Known widely within the birding community and recognized for both his birding acumen and his quirky intellect, Floyd is a frequent speaker at bird festivals and ornithological society meetings nationwide.
Praise For…
---
"Floyd challenges our reflexive dismissal of [robins] as ordinary and unremarkable. And indeed, now that we know all they have been through, their easy abundance seems all the more wonderful today." –The Washington Post
 
"After extensive discussions on the how and what of birding do we get to the why. Floyd's answer to that is among the best I've heard: birds are "proclaiming that this world of ours is full of wonder and beauty, still exhorting us to go out and drink it all in…The mini lessons in [the book] whet the appetite for the possibilities in birding. For newer, and maybe even some not-so-new, birders, this could be a real eye-opener. For them, this book should be required." –The Birder's Library

"Normal, well-adjusted people, people who will never be found tramping through the Ramble on freezing-cold March mornings with up-to-the-second app-fed information about a rumor of an early migrating Eastern Phoebe, might, if pressed, supply even more accurate words than 'serious' or 'methodical' to describe the motley crowd to which Ted Floyd openly pledges fealty. How to Know the Birds will please that crowd enormously - and it will serve as a both field guide and meta field guide for the rest of us." –Open Letters Review

"Like the Petersonian original, this new How to Know the Birds is illustrated with simple and appealing drawings, this time from the pencil of N. John Schmitt. The cover is a tour de force of book design, with words and image overlapped and intertwined—a perfect evocation of what is inside, a wonderful text combining science, art, and joy in a way sure to inspire any birder." –Tucson Audubon

"You can't find a better guide to birds and birding than Ted Floyd. This snappy, chatty book is a fascinating primer to both, and will make you a much better, wiser birder." --Scott Weidensaul, author of Living on the Wind

"What a delightful study of birds and birding, smart, witty, engaging, and beautifully observed.  If you love birds and want to know them (and their devoted watchers) better, this book is for you--to dip into and to revisit for the priceless rules of thumb."  --Jennifer Ackerman

"Birding is our most democratic way to connect to nature, because birds are everywhere — from inner cities to the deepest wilderness. Here's a new take on birding certain to inspire people to connect more deeply with the lives around them." —Richard Louv, author of Last Child in the Woods, The Nature Principle and Vitamin N

"This is an introduction to 21st century birding, where digital tools, global data sharing, and an acknowledgement of the dynamism of a rapidly changing earth combine with good old fashioned love of the birds. Ted Floyd teaches us that seeing the bird and checking it off a list isn't really the core pleasure of birding—it is knowing  the bird—its behavior, ecology, personality, and role in the evolving human ecology of the Anthropocene, that is the true pleasure of contemporary birding. Buy it for anyone you want to fall in love with birds, or for yourself, so as to fall in love a bit more."
–Emma Marris, author of Rambunctious Garden

"Birds—clearly the heroes in this engaging volume—have so much to teach us about ourselves and our world. You'll find your curiosity and delight growing with each page."  –David Yarnold, President and CEO of the National Audubon Society.