A Dog's Purpose: A Novel for Humans (CD-Audio)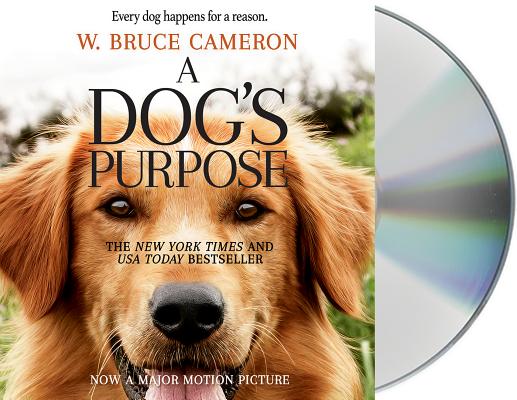 $39.99
Email or call for price.
August 2010 Indie Next List
---
"This is a charming story of a dog's search for meaning over the course of several lifetimes, from that of a feral dog, to a beloved family pet, a search-and-rescue dog, and a victim of abuse. I laughed and cried, all the while appreciating the fragility of life as seen through the first-person narration of this remarkable dog."
— Fran Wilson, Colorado State University Bookstore, Fort Collins, CO
Description
---
A Dog's Purpose—the #1 New York Times bestseller and major motion picture—is a perfect gift to introduce dog lovers to this wonderful series.

Based on the beloved bestselling novel by W. Bruce Cameron, A Dog's Purpose, from director Lasse Hallström (The Cider House Rules, Dear John, The 100-Foot Journey), shares the soulful and surprising story of one devoted dog (voiced by Josh Gad) who finds the meaning of his own existence through the lives of the humans he teaches to laugh and love.

The family film told from the dog's perspective also stars Britt Robertson, KJ Apa, John Ortiz, Peggy Lipton, Juliet Rylance, Luke Kirby, Pooch Hall and Dennis Quaid. A Dog's Purpose is produced by Gavin Polone (Zombieland, TV's Gilmore Girls). The film from Amblin Entertainment and Walden Media will be distributed by Universal Pictures. Screenplay by W. Bruce Cameron & Cathryn Michon and Audrey Wells and Maya Forbes & Wally Wolodarsky.

Heartwarming, insightful, and often laugh-out-loud funny, A Dog's Purpose is not only the emotional and hilarious story of a dog's many lives, but also a dog's-eye commentary on human relationships and the unbreakable bonds between man and man's best friend. This moving and beautifully crafted story teaches us that love never dies, that our true friends are always with us, and that every creature on earth is born with a purpose.

Bailey's story continues in A Dog's Journey, the charming New York Times and USA Today bestselling direct sequel to A Dog's Purpose.

A Dog's Purpose Series
#1 A Dog's Purpose
#2 A Dog's Journey
#3 A Dog's Promise

Books for Young Readers
Ellie's Story: A Dog's Purpose Puppy Tale
Bailey's Story: A Dog's Purpose Puppy Tale
Molly's Story: A Dog's Purpose Puppy Tale
Max's Story: A Dog's Purpose Puppy Tale
Toby's Story: A Dog's Purpose Puppy Tale
Shelby's Story: A Dog's Way Home Novel

The Rudy McCann Series
The Midnight Plan of the Repo Man
Repo Madness

Other Novels
A Dog's Way Home
The Dog Master
The Dogs of Christmas
Emory's Gift
About the Author
---
W. BRUCE CAMERON is the #1
New York Times
and
USA Today
bestselling author of
A Dog's Purpose, A Dog's Way Home,
and
A Dog's Journey
(all now major motion pictures),
The Dog Master, A Dog's Promise,
the Puppy Tales for young readers (starting with
Ellie's Story
and
Bailey's Story
),
The Dogs of Christmas, The Midnight Plan of the Repo Man
, and others. He lives in California.
William Dufris began his audio career in London, England. He co-found the audio production company The Story Circle, Ltd in the UK. In the US, he founded Mind's Eye Productions and co-founded Rocky Coast Radio Theatre in addition to The AudioComics Company, for which he is producer, director, actor and engineer. Durfis was nominated six times as a finalist for the APA's prestigious Audie Awards. He garnered eighteen Golden Earphones Awards through AudioFile magazine, which honored him as one of The Best Voices at the End of the Century. Of his work, AudioFile said, "William Dufris commands a dazzling array of voices that bring to life the dozens of audiobooks he's narrated." His audiobook credits include many of Newt Gingrich and William R. Forstchen, Ph.D.'s works, such as Days of Infamy and Pearl Harbor, in addition to George McGovern's Abraham Lincoln, Neal Stephenson's Cryptonomicon and John Scalzi's The Ghost Bridges.

Dufris acted on stage and in television and is best known as the original North American voice of the cartoon character Bob in Nickelodeon's popular children's show, Bob the Builder. Additionally, he worked with legendary director Dirk Maggs on his audio drama productions of Spider-Man.
Praise For…
---
"I loved the book and I could not put it down. It really made me think about the purpose of life. At the end, I cried." —Temple Grandin, New York Times bestselling author of Animals in Translation

"Marley and Me combined with Tuesdays with Morrie." —Kirkus Reviews

"A Dog's Purpose is the most accurate window into a dog's mind I have ever encountered. I couldn't put it down, and once I finished it, I actually felt is if my dog, who had recently passed away, was speaking to me through this book. A triumph, impeccably detailed with intelligence and heart." —Dina Zaphiris, Host, "Petfinder" Animal Planet

"A Dog's Purpose takes the reader on a special journey, exploring the mysterious and marvelous bond between people and animals. Bruce Cameron spins a tale of tails that wag, lessons that are learned, and special relationships that shine with courage and devotion. A good book to read with your best friend at your side." —Tony La Russa, manager of the St. Louis Cardinals and co founder of the Animal Rescue Foundation

"Finally, a fictional dog who is a real dog! Anyone who has ever loved a dog needs to read this wise, touching, often hilarious book. Bailey, the narrator, tells the absolute dog truth about how intuitive your dog is, how profoundly your dog loves you (and how very much they love to roll in road kill, and how puzzled they are that you don't love it, too). Most importantly, this book allows the reader to intimately experience a genuine dog's eye view of the bond between dogs and humans, and how nothing, not even death, can ever end that bond." —Dr. Marty Becker, Resident Veterinarian on Good Morning America and the Dr. Oz Show

"This book is a classic. A beautiful, uplifting, tenderly told, frequently funny, and exquisitely moving story…I am awash in the tears of recognition every dog lover will shed when they read this remarkable book." —Iris Dart, New York Times bestselling author of Beaches

"This is an exquisite, magical, fantastic book. I devoured it in a, "I-resent-anything-that-prevents-me-from-getting-back-to-the-book-why-do-I-have-to-work-my-kid-is-almost-six-can't-he-drive-himself-to-school?" way. I adored Bailey, the dog narrator, and though I got teary, I absolutely loved this book. You should quickly fetch "A Dog's Purpose," an exemplar of the literary canine canon." —Duncan Strauss, Host,"Talking Animals" NPR

"This wonderfully imagined, inspirational tale is told by a spiritual guide dog who teaches us that our life's purpose is best accomplished when the word "love" is a verb. Bailey the dog knows the profound truths: there is no death, and fear is our greatest enemy. If you are a human, you need to read this treasure of a book." —Dannion Brinkley, New York Times Best Selling Author, "Saved By the Light"

"I finished this book and wanted to read it all over again. A funny, enchanting, and utterly believable story of the multiple lives of a most articulate canine, A Dog's Purpose convinced me that there must be reincarnation and that author W. Bruce Cameron was once a dog. How else could he so poignantly detail life, love, and loyalty from the four-pawed point of view?" —Victoria Moran, author of Living a Charmed Life

"Usually when I read a book this brilliantly written, I wish I had written it, but in this case I'm just grateful it was written at all. For years I grieved and agonized over the choices I made in caring for my dog at the end of her life, but after hearing from Bailey how deeply our dogs feel what we humans go through, I know my dog loved me till the end, and loves me still, as I love her. This book healed me." —Cathryn Michon, author of The Grrl Genius Guide to Life