The True Flag: Theodore Roosevelt, Mark Twain, and the Birth of American Empire (CD-Audio)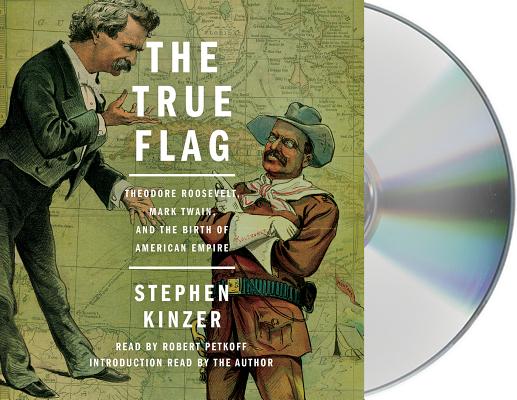 $45.99
Special Order - Subject to Availability
Description
---
The bestselling author of Overthrow and The Brothers brings to life the forgotten political debate that set America's interventionist course in the world for the twentieth century and beyond.
How should the United States act in the world? Americans cannot decide. Sometimes we burn with righteous anger, launching foreign wars and deposing governments. Then we retreat—until the cycle begins again.
No matter how often we debate this question, none of what we say is original. Every argument is a pale shadow of the first and greatest debate, which erupted more than a century ago. Its themes resurface every time Americans argue whether to intervene in a foreign country.
Revealing a piece of forgotten history in The True Flag, Stephen Kinzer transports us to the dawn of the twentieth century, when the United States first found itself with the chance to dominate faraway lands. That prospect thrilled some Americans. It horrified others. Their debate gripped the nation.
The country's best-known political and intellectual leaders took sides. Theodore Roosevelt, Henry Cabot Lodge, and William Randolph Hearst pushed for imperial expansion; Mark Twain, Booker T. Washington, and Andrew Carnegie preached restraint. Only once before—in the period when the United States was founded—have so many brilliant Americans so eloquently debated a question so fraught with meaning for all humanity.
All Americans, regardless of political perspective, can take inspiration from the titans who faced off in this epic confrontation. Their words are amazingly current. Every argument over America's foreign policy and international role grows from this one. It all starts here.
About the Author
---
Stephen Kinzer is the author of over ten books, including The True Flag, The Brothers, Overthrow, and All the Shah's Men. An award-winning foreign correspondent, he served as the New York Times bureau chief in Nicaragua, Germany, and Turkey. He is a senior fellow at the Watson Institute for International and Public Affairs at Brown University, and writes a world affairs column for the Boston Globe. He lives in Boston.

Robert Petkoff has won multiple AudioFile Earphones awards for his acclaimed narrations. He was named Best Voice of Fiction & Classics for his reading of The Evolution of Bruno Littlemore by Benjamin Hale. His other narration credits include Oath of Office by Michael Palmer, Gangster Squad by Paul Lieberman, and books by David Foster Wallace.Petkoff has appeared on Broadway, Off-Broadway, and in theaters across America and Europe.  He has worked in television and film. His theater credits include Lord Evelyn Oakleigh in the Broadway production of Anything Goes, Perchik as part of the Tony-nomianted cast of Fiddler on the Roof, and Hubert Humphrey in the Tony award-winning play All the Way. He has also had numerous roles in television on shows such as Law and Order and Married with Children.
Praise For…
---
"Stephen Kinzer's The True Flag is a marvelous and timely look at the rise of American imperialism at the turn of the twentieth century. All the big power players of the era – Theodore Roosevelt and Mark Twain among them – are analyzed cogently as intellectuals of great merit. An outstanding book!"
—Douglas Brinkley, author of Rightful Heritage: Franklin D. Roosevelt and the Land of America and professor of history, Rice University
"Even in the pages of a novel, it would be impossible to find more extraordinary characters than Theodore Roosevelt and Mark Twain. That these two men locked horns over one of the most fundamental issues facing a young nation is a stunning turn of events, one that Stephen Kinzer, through meticulous research and masterful writing, has turned into a fascinating, fast-paced narrative."
—Candice Millard, author of The River of Doubt, Destiny of the Republic, and Hero of the Empire
"At a moment when Americans are hotly debating their country's role in the world, Stephen Kinzer takes us back to the origins of the modern debate. His account of the battle between imperialists and anti-imperialists at the end of the nineteenth century is riveting, uplifting, dismaying—and as timely as can be."
—H. W. Brands, professor of history at the University of Texas at Austin and author of The General vs. the President: MacArthur and Truman at the Brink of Nuclear War
"In The True Flag, Stephen Kinzer gives us much more than the story of the birth of American dominion. He shows why we Americans were attracted to empire, how we have nurtured it to maturity, and what our choices are now. I thank him for helping me better understand how America acts in the world today."
—James Bradley, author of Flags of Our Fathers, The Imperial Cruise, and The China Mirage
"Stephen Kinzer's lively and incisive history takes us back more than a century to a fateful turning point: the moment when the United States first assumed the right to overthrow or build up regimes in distant parts of the globe. I hope American leaders will read this book, and think long and hard about the warning it sounds." —Adam Hochschild, author of Spain in Our Hearts and King Leopold's Ghost