Matthew: All Authority in Heaven and on Earth (Preaching the Word) (Hardcover)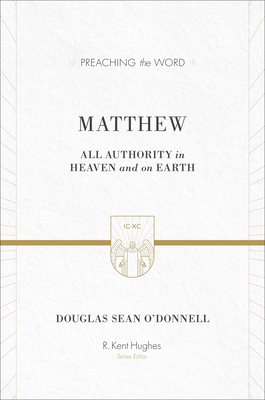 $54.99

Special Order - Subject to Availability
Description
---
Jesus is King. Standing as a central theme of the Gospel of Matthew, Jesus' kingly authority has profound implications for our lives today--changing the way we view the world, interact with others, and respond to blessings and hardships.
In this reader-friendly commentary, seasoned pastor Doug O'Donnell leads us through the first book of the New Testament, highlighting key themes and offering contemporary illustrations for preaching. Drawing on years of pastoral experience, O'Donnell helps us to see how Matthew's various emphases--including Jesus' messianic titles, fulfillment of Old Testament prophecy, teaching on the kingdom of heaven, and present and future role as judge--all relate to Christ's kingship over all of creation.
Full of biblical insights aimed at both pastors and laypeople, this volume ultimately highlights Matthew's call to all people to worship and obey Jesus, our humble King and gracious Savior.
About John
While each of the Gospels presents Christ with a distinct emphasis, the Gospel of John focuses on his greatness--as the timeless Creator-God of the universe, as the Word made flesh, as the gracious lover of our souls, and as the only way to the Father.
Instead of detailing the facts and events of Jesus' earthly life, as the other Gospel writers did, John concentrates on the meaning of his words and the message of his works, clearly presenting him as the long-awaited Messiah with one mission in mind: to do the work of the Father who sent him. a
Follow along with pastor Kent Hughes in this engaging commentary as he leads you through this magnificent book of the Bible. His careful exposition and wise application will guide you to a richer understanding of not only God's greatness, but of his great goodness to us all.
Part of the Preaching the Word series.
About the Author
---
Douglas Sean O'Donnell (PhD, University of Aberdeen) is the senior vice president of Bible editorial at Crossway. He is the author and editor of over a dozen books, including The Beginning and End of Wisdom; The Pastor's Book; The Song of Solomon and Matthew in the Preaching the Word commentary series; and Psalms in the Knowing the Bible series. He also contributed the Song of Solomon and Job to the ESV Expository Commentary.