Essentials of Descriptive-Interpretive Qualitative Research: A Generic Approach (Paperback)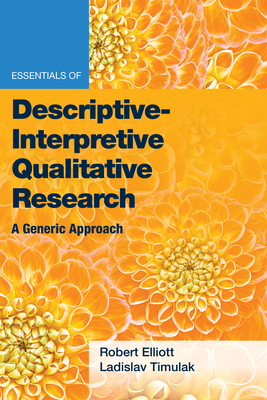 Description
---
The brief, practical texts in the Essentials of Qualitative Methods series introduce social science and psychology researchers to key approaches to capturing phenomena not easily measured quantitatively, offering exciting, nimble opportunities to gather in-depth qualitative data.

This book offers a no-nonsense, step-by-step approach to qualitative research in psychology and related fields, presenting principles for using a generic approach to descriptive-interpretive qualitative research. Based on more than 50 years of combined experience doing qualitative research on psychotherapy, the authors offer an overarching framework of best research practices common to a wide range of approaches.

About the Essentials of Qualitative Methods book series: Even for experienced researchers, selecting and correctly applying the right method can be challenging. In this groundbreaking series, leading experts in qualitative methods provide clear, crisp, and comprehensive descriptions of their approach, including its methodological integrity, and its benefits and limitations. Each book includes numerous examples to enable readers to quickly and thoroughly grasp how to leverage these valuable methods.
About the Author
---
Robert Elliott, PhD, is Professor of Counselling at the University of Strathclyde. He received his doctorate in clinical psychology from the University of California, Los Angeles, and is professor emeritus of psychology at the University of Toledo (Ohio). He has spent most of his career as a psychotherapy researcher trying out and inventing different research methods. He is co-author of Facilitating Emotional Change (1993), Learning Process-Experiential Psychotherapy (2004), Research Methods in Clinical Psychology (3rd ed., 2015), as well as more than 170 journal articles and book chapters. He is past president of the Society for Psychotherapy Research and previously co-edited the journals Psychotherapy Research and Person-Centered and Experiential Psychotherapies. Ladislav Timulak, PhD, is an Associate Professor at Trinity College Dublin, Ireland. He is Course Director of the Doctorate in Counselling Psychology course. Ladislav (or Laco for short; read Latso) is involved in the training of counselling psychologists and various psychotherapy trainings in Ireland and internationally. Laco is both an academic and a practitioner. He is interested in research methodology and psychotherapy research, particularly the development of emotion-focused therapy. He has written six books, over 80 peer-reviewed papers, and various chapters in both his native language, Slovak, and in English. He serves on various editorial boards and in the past served as a co-editor of Counselling Psychology Quarterly.