The Girl from Venice (Hardcover)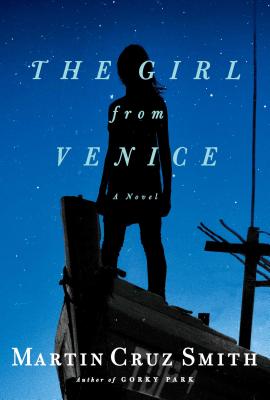 $27.00
Email or call for price.
Staff Reviews
---
One of the best mysteries I've read in years. Smith's work is usually brilliantly written, but often dark and brutal. This novel, set at the end of WWII in Venice, is not so dark, but funny and compelling at the same time. Mussolini, Hitler, their mistresses, and their gold are characters in the story, as is a lovely young Jew hiding from the Nazis, and a fisherman who not only teaches her about fishing but about life, discovering unknown parts of himself in the process. 
 
—
Gayle
Description
---
The highly anticipated new standalone novel from Martin Cruz Smith, whom The Washington Post has declared "that uncommon phenomenon: a popular and well-regarded crime novelist who is also a writer of real distinction," The Girl from Venice is a suspenseful World War II love story set against the beauty, mystery, and danger of occupied Venice.

Venice, 1945. The war may be waning, but the city known as La Serenissima is still occupied and the people of Italy fear the power of the Third Reich. One night, under a canopy of stars, a fisherman named Cenzo comes across a young woman's body floating in the lagoon and soon discovers that she is still alive and in trouble.

Born to a wealthy Jewish family, Giulia is on the run from the Wehrmacht SS. Cenzo chooses to protect Giulia rather than hand her over to the Nazis. This act of kindness leads them into the world of Partisans, random executions, the arts of forgery and high explosives, Mussolini's broken promises, the black market and gold, and, everywhere, the enigmatic maze of the Venice Lagoon.

The Girl from Venice is a thriller, a mystery, and a retelling of Italian history that will take your breath away. Most of all it is a love story.
About the Author
---
Martin Cruz Smith's novels include Gorky Park, Stallion Gate, Nightwing, Polar Star, Stalin's Ghost, Rose, December 6, Tatiana, The Girl from Venice, and The Siberian Dilemma. He is a two-time winner of the Hammett Prize, a recipient of the Mystery Writers of America's Grand Master Award and Britain's Golden Dagger Award, and a winner of the Premio Piemonte Giallo Internazionale. He lives in California.
Praise For…
---
"Evocative . . . Smith conjures the time and place with a generous dose of what the novelist Evan Connell called 'luminous details.' . . . The Girl from Venice's vivid treatments of a timeless trade and certain little-known aspects of World War II make it well worth your time." —Dennis Drabelle, The Washington Post

"You think you've read every permutation of a World War II novel possible—then along comes a Venetian fisherman and his unlikely first mate, a beautiful Jewish teenaged girl on the run from the last few Nazis occupying Italy. . . . Suspense, romance, spying, action—this novel has a little bit of everything, and it works. Cruz Smith is a master of quick scene changes . . . [who] has chosen, in The Girl from Venice, to put aside his usual spy stories for a straightforward wartime chase-cum-romance, a slice of La Serenissima life so perfectly researched that details melt into action like the local goby fish into risotto." —Bethanne Patrick, NPR

PRAISE FOR MARTIN CRUZ SMITH:

"Martin Cruz Smith is a master of the international thriller." —The New York Times

"Smith is that uncommon phenomenon: a popular and well-regarded crime novelist who is also a writer of real distinction. His prose is clear, precise, and unobtrusively elegant, and his sense of character is unerring." —The Washington Post


"A true storyteller. . . . Think Joseph Conrad on amphetamines." —Newsweek

"With the recent death of the reigning master of the suspense novel, Elmore Leonard, to whom do we turn in the hopes of a masterly glide through dire straits in the dark side of life, with pitch-perfect dialogue, intriguing characters, and a plot with punchy turns and a satisfying twist? My candidate would be California writer Martin Cruz Smith." —Alan Cheuse, The Dallas Morning News