The House of Mirth (Enriched Classics) (Paperback)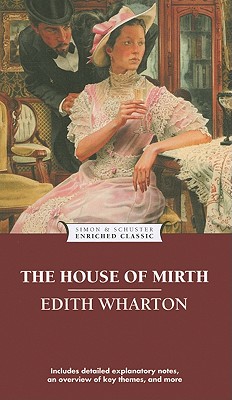 Description
---
ENDURING LITERATURE ILLUMINATED BY PRACTICAL SCHOLARSHIP

An incisive portrait of New York high society and the somber economics of marriage during the late nineteenth century, Edith Wharton's The House of Mirth tells the story of beguiling socialite Lily Bart's ill-fated attempt to find happiness.

THIS ENRICHED CLASSIC EDITION INCLUDES:

• A concise introduction that gives the reader important background information

• A chronology of the author's life and work

• A timeline of significant events that provides the book's historical context

• An outline of key themes and plot points to guide the reader's own interpretations

• Detailed explanatory notes

• Critical analysis and modern perspectives on the work

• Discussion questions to promote lively classroom and book group interaction

• A list of recommended related books and films to broaden the reader's experience

Simon & Schuster Enriched Classics offer readers affordable editions of great works of literature enhanced by helpful notes and insightful commentary. The scholarship provided in Enriched Classics enables readers to appreciate, understand, and enjoy the world's finest books to their full potential.
About the Author
---
Edith Wharton was the first woman to win a Pulitzer Prize, for The Age of Innocence. Born in 1862 into one of New York's older and richer families, she was educated here and abroad. Her works include Ethan Frome, The Reef, The Custom of the Country, The Glimpses of the Moon, and Roman Fever and Other Stories. As a keen observer and chronicler of society, she is without peer. Edith Wharton died in France in 1937.
Praise For…
---
Gore Vidal There are only three or four American novelists who can be thought of as "major," and Edith Wharton is one.