Warm Bodies: A Novel (The Warm Bodies Series #1) (Paperback)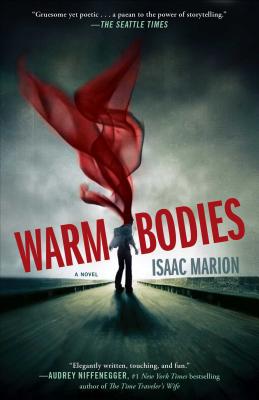 $16.00

Not Available In-Store - Usually Ships from Warehouse in 1-5 Days
Other Books in Series
This is book number 1 in the The Warm Bodies Series series.
Staff Reviews
---
"R" is a zombie. He isn't like his fellow Dead. He may not have a heartbeat, he may eat brains, but R dreams too. When R meets the very much alive Julie, and decides to save her instead of eat her brain, things start to change. Something is happening to him, and every day he feels more…alive? This is the most unusual zombie book I've ever read. The writing is delicious and I just loved every bit of the story. You have to give Warm Bodies a try, even if you're not a big zombie-genre fan. I think most people, girls and boys alike, most ages, would get something out of it. Despite its humorous moments scattered throughout, in a way it's thought provoking and surprisingly deep; much more than I expected. I really look forward to more of this author's work. Isaac Marion definitely has a way with words, and I want more.
—
LEAH'S STAFF PICKS
Isaac Marion's debut novel sparkles with effervescent prose and compelling, heartrendingly human characters—whether they are alive or the undead. R, the undead protagonist, is a homage to classic Night of the Living Dead zombies with a twist—his pensive and brilliantly verbose inner life contradicts his shuffling, moaning personage. He remembers nothing of his own past, but experiences the addictive pleasures of live by snacking on the brains of the living. One of these brains belonged to Perry, the melancholy artiste boyfriend of one Julie—the very girl he finds himself starting to fall for. As R struggles with his feelings for Julie and whether they are real, or the shadows of the love he glimpsed in mouthfuls of Perry's brain, Warm Bodies asks: is life merely the daily motions of our cells, or a state of being fueled by love, hope, and the human connection? A must-read for zombie fans aching for something new, or anyone with a taste for brains and gore, action scenes begging for a film adaptation, and a little bit of transformative romance.
—
Jennie
Description
---
NEW YORK TIMES BESTSELLER, NOW A MAJOR MOTION PICTURE

"Gruesome yet poetic…highly original." —The Seattle Times
"Dark and funny." —Wired
"A mesmerizing evolution of a classic contemporary myth." —Simon Pegg
"A strange and unexpected treat…elegantly written, touching, and fun." —Audrey Niffenegger, author of The Time Traveler's Wife
"Has there been a more sympathetic monster since Frankenstein's?" —Financial Times

In Warm Bodies, Isaac Marion's New York Times bestselling novel that inspired a major film, a zombie returns to humanity through an unlikely encounter with love.

"R" is having a no-life crisis—he is a zombie. He has no memories, no identity, and no pulse, but he is a little different from his fellow Dead. He may occasionally eat people, but he'd rather be riding abandoned airport escalators, listening to Sinatra in the cozy 747 he calls home, or collecting souvenirs from the ruins of civilization.

And then he meets a girl.

First as his captive, then his reluctant house guest, Julie is a blast of living color in R's gray landscape, and something inside him begins to bloom. He doesn't want to eat this girl—although she looks delicious—he wants to protect her. But their unlikely bond will cause ripples they can't imagine, and their hopeless world won't change without a fight.
About the Author
---
Isaac Marion grew up in the mossy depths of the Pacific Northwest, where he worked as a heating installer, a security guard, and a visitation supervisor for foster children before publishing his debut novel in 2010. Warm Bodies became a #5 New York Times bestseller and inspired a major Hollywood film adaptation. It has been translated into twenty-five languages worldwide. Isaac lives in Seattle with his cat and a beloved cactus, writing fiction and music, and taking pictures of everything. Visit IsaacMarion.com for more on these endeavors.
Praise For…
---
"Gruesome yet poetic . . . a paean to the power of storytelling."
— The Seattle Times

"A jubilant love story."
— Kirkus

"Ruefully humorous . . . cinematic in scope."
— The Guardian (UK)

"Marion's characters are far from perfect. Their flaws give them a realness and depth that have the reader caring deeply."
— Paste Magazine