Not So Golden After All: The Rise and Fall of California (Hardcover)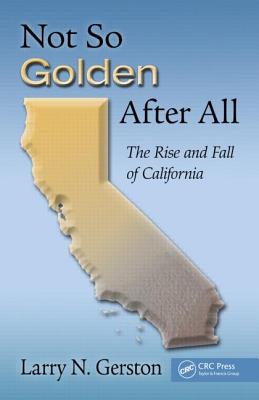 Description
---
Quality public education, modern highway systems, and reasonably priced housing--these are just some of the qualities that once made California one of the most desirable places to live. Just a few decades later, the state finds itself with an education system that is failing its citizens, one of the highest unemployment rates in the nation, and a quickly evaporating dream of home ownership.
Illustrating each step of the breakdown that led to its current state of dysfunction, Not So Golden After All: The Rise and Fall of California provides insight into a system gone amuck. It addresses complicated topics in an engaging manner to help the public and leaders alike understand how to make policies that balance expectations with outcomes. Key political themes covered include disconnected institutions, perpetually unbalanced budgets, immigration, voter ignorance, interest group influence, and dysfunctional institutions. Investigating the gridlock that has become all too common within the state's legislature, the book:
Demonstrates the impact of the state's inability to generate sufficient revenue, particularly for public education and an under-trained workforce Highlights the problems created by poor land use planning --from suburban sprawl and government waste to inefficient use of agricultural land Examines how interest groups have been able to wrest control of the processes that were created to keep them in line Identifies the duplication of efforts and other inefficiencies at the state and local levels
Author Larry Gerston leaves no stone unturned in his discussion of California's economy, position on the Pacific Rim, cultural diversity, land and water issues, and its relationship with the federal government. He examines the state's infrastructure, natural resources, immigration issues, education, finance, healthcare, civil rights, planning and development, security, laws, political parties, and power structures to provide civic leaders and policy makers with the understanding required to restore the sheen to this once glistening paradise.
The Contra Costa Times discussed Larry Gerston's recent Commonwealth Club lecture in a May 17, 2012 article.
Read an interview with Larry Gerston in The Mercury News.
About the Author
---
Larry Gerston is a professor of political science at San Jose State University and the political analyst at NBC11 (the Bay Area NBC station). He has written ten other books in addition to Not So Golden After All: The Rise and Fall of California, including Politics in the Golden State, Recall!, and California Politics and Government (all with Terry Christensen). In addition to his larger works, Gerston has penned more than 100 op-ed columns in newspapers including the San Jose Mercury News, San Francisco Chronicle, and Los Angeles Times. Frequently interviewed for his political insight, he has appeared on NBC Nightly News, BBC, NPR, and CNN's Inside Politics.