Tiny House Living: Ideas for Building and Living Well in Less Than 400 Square Feet (Paperback)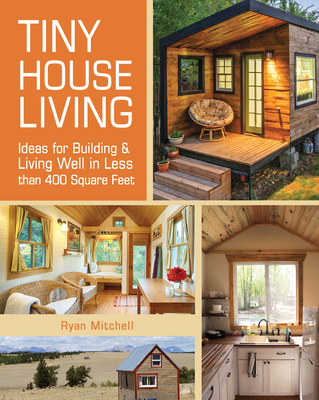 $26.99

Not Available In-Store - Usually Ships from Warehouse in 1-5 Days
Staff Reviews
---
I've been thinking lately about the kind of home I'd like to have – what is feasible and affordable – and I picked up this book with that in mind. Though I'll admit that 400 sq ft might be a little small for me, the stories and houses in this book are inspiring. The ingenuity that goes into a house so small is truly amazing – everything is functional and placed for maximum efficiency, and the end result is a space that seems much larger than it is. Though I think in the end I'll build something in the 600 sq ft range, this book has made me think about what is really important in my life, what is necessary, and how much less stressful our lives could be if we focused more on what we need, and less on what society tells us is desirable.
—
Em
Description
---
Tiny House, Large Lifestyle Tiny homes are popping up across America, captivating people with their novel approach not only to housing, but to life. Once considered little more than a charming oddity, the tiny house movement continues to gain momentum among those who thirst for a simpler, greener, more meaningful life in the face of society's more is better mindset. This book explores the philosophies behind the tiny house lifestyle, helps you determine whether it's a good fit for you, and guides you through the transition to a smaller space. For inspiration, you'll meet tiny house pioneers and hear how they built their dwellings (and their lives) in unconventional, creative and purposeful ways. They'll invite you in, show you around their cozy abodes, and share lessons they learned along the way. Inside you'll find everything you need to design a tiny home of your own: - Worksheets and exercises to help you home in on your true needs, define personal goals, and develop a tiny house layout that's just right for you.
- Practical strategies for cutting through clutter and paring down your possessions.
- Guidance through the world of building codes and zoning laws.
- Design tricks for making the most of every square foot, including multi-function features and ways to maximize vertical space.
- Tours of 11 tiny houses and the unique story behind each.
Tiny House Living is about distilling life down to that which you value most...freeing yourself from clutter, mortgages and home maintenance...and, in doing so, making more room in everyday life for the really important things, like relationships, passions and community. Whether you downsize to a 400-square-foot home or simply scale back the amount of stuff you have in your current home, this book shows you how to live well with less.
About the Author
---
Ryan Mitchell lives in Charlotte, North Carolina, and has been active in the Tiny House movement for years. You might know him as the main blogger and founder of TheTinyLife.com, a website dedicated to sharing stories of tiny living--whether it's tips for simplifying your life or advice for building your own tiny residence. Because nothing beats one-on-one interactions, Ryan helps people connect with each other through community events at TinyHouseConference.com. Since Ryan built his own tiny house in 2013, he has been able to actively pursue his passions, which include photography, backpacking, and travel. Ryan believes that alternative housing options and sustainable local agriculture are key components to meet the future needs of society.