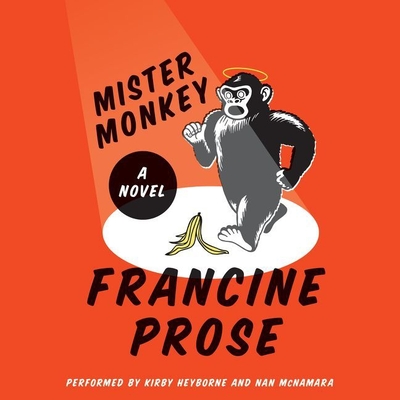 $39.99

Special Order - Subject to Availability
Staff Reviews
---
As a petulant, ungrateful child, my parents would often remind me of how many people had it worse than I did. I blame them for my devotion to schadenfreude: I now derive a particular satisfaction from books about people who have it worse than me. And I loved Mister Monkey! Populated by sad sacks, misfits, and the misunderstood, it is by turns hilarious and heartbreaking, but never ever boring! Each chapter is devoted to a different character, all connected by a cheesy play: a rich playwright, tormented by his lame success, a tiny youth in a monkey costume who sexually harasses his older co-star, the sexually harassed older co-star, and so many more. Francine Prose is at her best in this new book, expertly blending humor and pathos!
—
Lauren
November 2016 Indie Next List
---
"I came to this book expecting to be entertained, and it is laugh-out-loud funny. But in the wise and observant ways of Prose, Mister Monkey is more than just a protracted joke. The story begins in the narrow spaces of a theater so to be demolished for condos and widens as Prose shifts points of view from actor to costume designer to writer to waiter to Hindu deity and back to the stage. Adolescent rage, loneliness, divinity, the end of the world, the beginning of love, the way we fail to live up to our dreams for ourselves, the fear of our own mediocrity, the unexpected victories that are the grace that fills the spaces made by disappointment: these are the soul of this novel with an agile, monkey heart. Both deeply moving and light, this is one of my favorite novels of the year."
— Melanie McNair, Malaprop's Bookstore/Cafe, Asheville, NC
Description
---
The acclaimed New York Times bestselling author weaves an ingenious, darkly humorous, and brilliantly observant story that follows the exploits and intrigue of a constellation of characters affiliated with an off-off-off-off Broadway children's musical.
Mister Monkey--a screwball children's musical about a playfully larcenous pet chimpanzee--is the kind of family favorite that survives far past its prime. Margot, who plays the chimp's lawyer, knows the production is dreadful and bemoans the failure of her acting career. She's settled into the drudgery of playing a humiliating part--until the day she receives a mysterious letter from an anonymous admirer . . . and later, in the middle of a performance, has a shocking encounter with Adam, the twelve-year-old who plays the title role.
Francine Prose's effervescent comedy is told from the viewpoints of wildly unreliable, seemingly disparate characters whose lives become deeply connected as the madcap narrative unfolds. There is Adam, whose looming adolescence informs his interpretation of his role; Edward, a young audience member who is candidly unimpressed with the play; Ray, the author of the novel on which the musical is based, who witnesses one of the most awkward first dates in literature; and even the eponymous Mister Monkey, the Monkey God himself.
With her trademark wit and verve, Prose delves into humanity's most profound mysteries: art, ambition, childhood, aging, and love. Startling and captivating, Mister Monkey is a breathtaking novel from a writer at the height of her craft.