Crossroads: My Story of Tragedy and Resilience as a Humboldt Bronco (Paperback)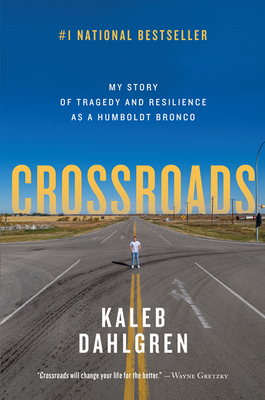 $16.99

Not Available In-Store - Usually Ships from Warehouse in 1-5 Days
Description
---
The Instant #1 National Bestseller—Now in Paperback
On April 6, 2018, sixteen people died and thirteen others were injured when a bus taking the Humboldt Broncos junior hockey team to a playoff game collided with a transport truck at a rural intersection in Saskatchewan. The tragedy moved millions of people to leave hockey sticks by their front doors to show sympathy and support for the Broncos. And people from more than eighty countries pledged millions of dollars to families that had been directly affected by the accident.
Crossroads is the story of Kaleb Dahlgren, a young man who survived the bus crash and faced life after the accident with positivity and grit. In this chronicle of his time with the Broncos and in the loving community of Humboldt, Saskatchewan, Dahlgren takes a hard look at his experience of unprecedented loss yet also revels in the overwhelming response and outpouring of love from across Canada and around the world. But this book also goes much deeper, revealing the adversity Dahlgren faced long before his time in Humboldt and his inspiring journey since the accident. From a childhood spent learning to live with type 1 diabetes, to a remarkable recovery from severe brain trauma that astounded medical professionals, Dahlgren documents a life of perseverance, gratitude and hope in the wake of enormous obstacles and life-altering tragedy.
About the Author
---
KALEB DAHLGREN is the former assistant captain of the Humboldt Broncos hockey team and one of thirteen survivors of the tragic bus crash. Shortly after getting out of the hospital, Dahlgren joined the York University Lions varsity hockey team. He graduated from York University in 2021 and is now studying at the Canadian Memorial Chiropractic College. The founder of Dahlgren's Diabeauties, a program that supports children with type 1 diabetes, Kaleb Dahlgren shares his message of hope and healing with groups across North America.
Praise For…
---
"We never know the true meaning of courage until we face it head-on in life: Kaleb's story is truly a story of courage. Crossroads is an amazing book that will take you back to your early days of hockey and sports and make you realize how important community and family really are. I know you will love this book and it will remind you how wonderful our country of Canada really is. Enjoy the read. Crossroads will change your life for the better." — WAYNE GRETZKY
"You might assume this book is going to engage you, enrapture you, inspire you, and motivate you because of Kaleb's story about how he's making his way through the Broncos tragedy and its aftermath, but you'd be wrong. It's going to do all of those things, but because of much more than that single incident." — HAYLEY WICKENHEISER, four-time Olympic gold medallist
"Kaleb has every excuse to be bitter and angry for everything he has been through, but instead he has chosen to be the complete opposite. He has inspired me to live every day to the fullest, and after reading Crossroads, I know you will feel the same way." — KATE BEIRNESS, sportscaster
"This is a book you should read: the story of a young man who has dealt with, and lives with, more than most of us do in our lifetime. Go, Kaleb." — BOBBY CLARKE, NHL legend
"Moving and inspiring, Kaleb Dahlgren's incredible story of optimism and grit at every crossroad in his life shows us all what's possible on our own journeys." — MARILYN DENIS
"There are few things more Canadian than a group of hockey-loving teenagers taking a bus to a big game on the Prairies. That's why the Humboldt tragedy hit us all so hard. It felt like the Broncos were all our boys. And so Kaleb's remarkable story moves us and shatters us, and ultimately gives us hope. It's an incredible account of a young man who refuses to be defined by one horrific moment." — JAMES DUTHIE, TSN host and bestselling author of Beauties
"This story truly touched my heart. When this tragic accident happened, Canada—and really the whole world—lost so much. We are all stronger when we come together, and Crossroads honours the Broncos and their legacy in such a beautiful way." — KAITLYN BRISTOWE, TV personality, podcaster, and entrepreneur
"Kaleb Dahlgren has done a great job providing insight into what makes a team strong: as the Humboldt Broncos' Core Covenant states, 'Family first.' A tribute to those lost and a gripping read." — MITCHELL MARNER, Toronto Maple Leafs
"Sixteen Broncos—their eyes dance and their smiles appear everywhere in Crossroads. With anguish and hope breaking through every line, Kaleb's book shows it's not the end of those lives. Deeply affecting and beautiful." — RON MACLEAN