Tuscan Daughter: A Novel (Paperback)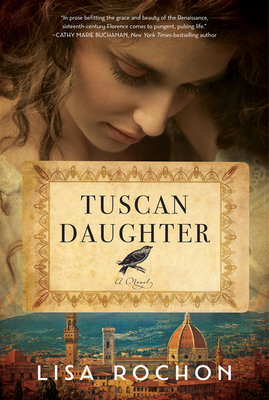 $19.99

Not Available In-Store - Usually Ships from Warehouse in 1-5 Days
Description
---
A novel of beauty and inspiration set during the Italian Renaissance about a young and defiant female artist searching for her mother.
Florence, 1500—a city that glitters with wealth and artistic genius is also a place of fierce political intrigue, walled off from the unrest in the surrounding Tuscan countryside. In this moment, a peasant girl finds herself alone after her father is killed and her mother disappears. Young Beatrice must dare to enter the city to sell her family's olive oil in order to survive, but also to search the streets and opium dens for her missing, grieving mother. 
Walking barefoot from her outlying village, Beatrice is given grudging permission to pass through the city gates to sell olive oil to the artists—Michelangelo, Leonardo da Vinci, Botticelli—who toil to elevate the status of the Florentine Republic. Lonely yet defiant, the peasant girl draws on the stone walls of Florence in secret as a way to express her pain. While desperately searching the city for her mother, Beatrice befriends the upstart Michelangelo as he struggles to sculpt the David. She also comes to know a cloth merchant's wife who is having her portrait painted by the aging Leonardo da Vinci, renowned through the land as Master of the Arts. Bonds deepen even while Michelangelo and Leonardo are pitted against each other. 
Set during five epic years in the early 1500s when Florence was rebranding itself through its creative geniuses, Tuscan Daughter reveals the humanity and struggles of a young woman longing to find the only family she has left and be an artist in her own right, and the way she influences the artistic masters of the time to stake everything on the power of beauty to transform and heal.
About the Author
---
LISA ROCHON is as an award-winning architecture critic, cultural commentator and the author of Up North: Where Canada's Architecture Meets the Land. She has contributed numerous essays and articles to books and journals such as Alphabet City, Canadian Architect, Metropolis and Architectural Record (NYC). She is the two-time winner of the National Newspaper Awards for her "City Space" column in the Globe and Mail, and the recipient of the Royal Architectural Institute of Canada's President's Award for Architectural Journalism. Educated at the University of Toronto and in Paris at Sciences Po and L'Ecole du Louvre, she travelled to Florence many times to retrace the steps of Lisa del Giocondo, Michelangelo and Leonardo da Vinci as she researched this novel, and was granted rare access to Leonardo's original drawings at Windsor Castle. She's passionate about art and ideas and is a frequent commentator on television and radio. You can find out more about her at www.citylab.space.
Praise For…
---
"Glorious . . . Impeccably researched and rife with lush detail and life's wisdom." — Toronto Star
A kaleidoscope of a novel, overflowing with the characters, art, suffering and discoveries of Renaissance Florence, Tuscan Daughter brings history to life.  — Anne Giardini, author of Advice for Italian Boys
Like a skilled sculptor, Lisa Rochon has chipped away the marble of time and given new life to Michelangelo, Leonardo and the artists of Renaissance Florence. Even better, her marvelous novel Tuscan Daughter surrounds them with ambitious, skilled, complicated women, rescuing through fiction what was lost in history.   — Elizabeth Renzetti, author of Based on a True Story and Shrewed
Renaissance Florence has inspired yet another exquisite work of scholarship, beauty, and craftsmanship.  Tuscan Daughter re-assembles familiar titans—Michelangelo, Leonardo, Machiavelli—in the magnificence of Renaissance Florence, but provides the fresh perspective of a young women struggling to find her way.  Rochon's writing reminds me of the sfumature—the tiny feathery touches—that Leonardo used to create his masterworks. Stroke by stroke, phrase by phrase, she constructs a vivid portrait of a time and a place that never cease to fascinate.   — Dianne Hales, author of La Bella Lingua, Mona Lisa: A Life Discovered, and La Passione: How Italy Seduced the World.  
"The cobblestone streets of Florence come alive in this heartfelt tale of the high renaissance. In Tuscan Daughter, Lisa Rochon weaves a rich tapestry of palaces and olive groves, of marble dust and genius; and a peasant girl who dreams of becoming an artist." — Glenn Dixon, author of Juliet's Answer
"Superbly researched and vividly imagined, Lisa Rochon's debut novel entwines the trials of a peasant girl with the unfolding drama of master artists Michelangelo and Leonardo da Vinci as they create their most revered works. In prose befitting the grace and beauty of the Renaissance, 16th century Florence comes to pungent, pulsing life—the gritty underclass, the artistic splendor, rivalries and ambitions, and the brutality of warring city-states."   — Cathy Marie Buchanan, New York Times-bestselling author ofDaughter of BlackLake