If My Dogs Were a Pair of Middle-Aged Men (Hardcover)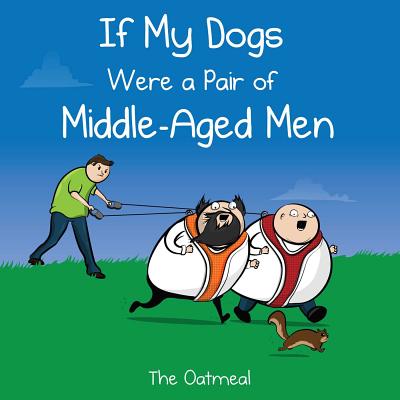 Staff Reviews
---
This has long been one of my favorite comics, that I would stumble across randomly and then not see again for months. Imagine my delight when an ENTIRE COLLECTION of them appeared in the very place I work. The concept is brilliantly simple, what would dogs look (and act like) if they were drawn as middle-aged men? The result is totally hilarious and is a great addition to a coffee table collection. — From Madeline's Picks
Description
---
From the Eisner Award-winning creator of The Oatmeal and #1 New York Times bestselling author of How to Tell If Your Cat Is Plotting to Kill You comes this charmingly absurd gift book about man's best friend.

In If My Dogs Were a Pair of Middle-Aged Men, Matthew Inman imagines, to hilarious effect, what life would be like if his dogs were a couple of old men running around his house. The result is a pitch-perfect gift for any dog owner.
 
 
About the Author
---
TheOatmeal.com is an entertainment website full of comics, quizzes, and stories. The site gets more than 7 million unique visitors and 30 million page views a month, and 250,000 blogs and websites have linked to it. TheOatmeal.com is written, drawn, and coded by Matthew Inman, a king of all trades when it comes to the Web. Matthew lives in Seattle, Washington, with his dogs, Rambo and Beatrix.
Praise For…
---
"Bottom line: this comic made me laugh until my sides hurt, and it made me feel closer to my pups, too." (Kelsey McConnell, ComicsVerse)