Adulthood Is a Myth: A Sarah's Scribbles Collection (Paperback)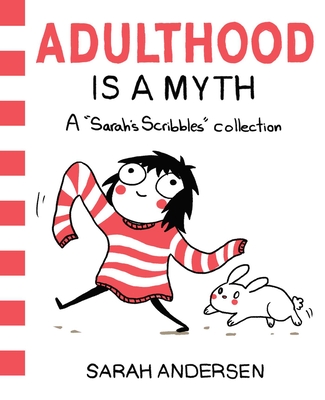 Staff Reviews
---
I became a fan of Sarah's through her Tumblr so needless to say I was very excited to find out to she had a book published. I really enjoy her sense of humor and view of the world. She is an introverted bookworm with her pet bunny who tries to make it through everyday life. She tries to take on relationships, standards of beauty and the joys being a girl. Give a try, you won't be disappointed.
—
Heather G.
When I read the first few lines of the back of this book, I was already sold. These comics are for the twenty-something introverts still trying to figure the world out. With situations ranging from spending habits to seeing that dreaded photo a friend tagged you in on social media, Andersen manages to capture the seemingly mundane happenings in life and make them hilarious. Perfect for fans of Allie Brosh's Hyperbole and a Half, Adulthood is a Myth is a must read!
—
Heather H.
Description
---
Do you love networking to advance your career? Is adulthood an exciting new challenge for which you feel fully prepared? Ugh. Please go away.

2016 GOODREADS CHOICE AWARD WINNER FOR GRAPHIC NOVELS AND COMICS!

These casually drawn, perfectly on-point comics by the hugely popular young Brooklyn-based artist Sarah Andersen are for the rest of us. They document the wasting of entire beautiful weekends on the internet, the unbearable agony of holding hands on the street with a gorgeous guy, and dreaming all day of getting home and back into pajamas. In other words, the horrors and awkwardnesses of young modern life. Oh and they are totally not autobiographical. At all.

Adulthood Is a Myth presents many fan favorites plus dozens of all-new comics exclusive to this book. Like the work of fellow Millennial authors Allie Brosh, Grace Helbig, and Gemma Correll, Sarah's frankness on personal issues like body image, self-consciousness, introversion, relationships, and the frequency of bra-washing makes her comics highly relatable and deeply hilarious.
About the Author
---
Sarah Andersen is a young cartoonist and illustrator who lives in Brooklyn.