The Radleys: A Novel (Paperback)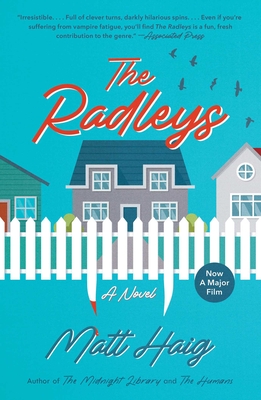 $17.00

Not Available In-Store - Usually Ships from Warehouse in 1-5 Days
Staff Reviews
---
Matt Haig is known for his dark takes on "ordinary" family life. The Radleys—literary fiction about the modern nuclear family with an oddly metaphoric vampiric twist—is Haig at his best. Peter—limping towards a midlife crisis—and Helen—plagued by secrets and regrets—have lied to their unpopular, awkward children Rowan and Clara since they were born. They're all "abstainers"—vampires who refuse to drink blood. Their practiced lies and feigned suburban banality fall apart when shy Clara gives in to her violent nature and Uncle Will, a practicing vampire, visits to unearth the secrets and habits of a sordid, bloody past they thought they could forget. Haig's dark humor and wit pulled me in to the Radley's dramas; teenagers and adults alike will also find it easy to relate to the characters. Through domestic derangement and vampire lore, Haig crafts a satisfying, well-paced novel that explores denial, hard bargains, the bonds of family, and what sin can cost—or win—us.
—
Jennie
Okay, so it's another vampire book... but not really. This is a "family in crisis" book. They just happen to be vampires. This family has some of the same problems we all have -- teenage angst, zits, marital apathy, discord -- they just have fangs and another side to their nature they have to fight. The fact that they are British -- and so supposedly staid as well -- just adds to the satirical aspect of the book.
—
Stephanie
January 2011 Indie Next List
---
"The Radleys have secrets like other families, and one in particular that will rip your throat out. Matt Haig puts a wicked British twist on suburban family drama. Wry and racy, with the right fire in the blood to keep you turning pages late into the night, The Radleys is a story about a family tearing things apart. Come closer, there's something you need to see here!"
— Geoffrey Jennings, Rainy Day Books, Fairway, KS
Description
---
From the bestselling author of The Midnight Library, an "irresistible...full of clever turns, darkly hilarious spins...Even if you're suffering from vampire fatigue...The Radleys is a fun, fresh contribution to the genre" (Associated Press).

Just about everyone knows a family like the Radleys. Many of us grew up next door to one. They are a modern family, averagely content, averagely dysfunctional, living in a staid and quiet suburban English town. Peter is an overworked doctor whose wife, Helen, has become increasingly remote and uncommunicative. Rowan, their teenage son, is being bullied at school, and their anemic daughter, Clara, has recently become a vegan. They are typical, that is, save for one devastating exception: Peter and Helen are vampires and have—for seventeen years—been abstaining by choice from a life of chasing blood in the hope that their children could live normal lives.

One night, Clara finds herself driven to commit a shocking—and disturbingly satisfying—act of violence, and her parents are forced to explain their history of shadows and lies. A police investigation is launched that uncovers a richness of vampire history heretofore unknown to the general public. And when the malevolent and alluring Uncle Will, a practicing vampire, arrives to throw the police off Clara's trail, he winds up throwing the whole house into temptation and turmoil and unleashing a host of dark secrets that threaten the Radleys' marriage.

The Radleys is a moving, thrilling, and radiant domestic novel that explores with daring the lengths a parent will go to protect a child, what it costs you to deny your identity, the undeniable appeal of sin, and the everlasting, iridescent bonds of family love. Read it and ask what we grow into when we grow up, and what we gain—and lose—when we deny our appetites.
About the Author
---
Matt Haig is the bestselling author of several books including the Alex Award–winning The Radleys, Humans, and The Midnight Library. An alumnus of Hull University and Leeds, his work has been translated into twenty-nine languages. He lives in York with his wife, UK novelist Andrea Semple, and their two children.
Praise For…
---
"Very original spin on the myth...The bite-size chapters guide the reader from one viewpoint to another....Haig's depiction of teen politics is spot on....insightful, frightening and uplifting....Uncle Will [is] a splendidly evil yet believable character...Haig pays just about enough respect to the conventions of the genre that the average vampire fan should find lots to enjoy, but it's the blackly comic dissection of the family that makes this book stand out." —The Guardian

"This witty vampire novel from British author Haig provides what jaded fans of the Twilight series need, not True Blood exactly, but some fresh blood in the form of a true blue family." --Publishers Weekly (starred review)

"Dark humor pervades Haig's entertaining vampire family soap opera...a refreshing take on an oversaturated genre." —Library Journal

"Terrific, droll, and touching."
—Parade

"The Radleys is effortlessly sleek and witty."
—Entertainment Weekly

"Haig's contribution is freshly weird and ultimately thirst-quenching for fans of the genre."
—USA Today

"As befits a vampire story, the wit tends to be sharp….Haig does justice to the effect of…betrayal on the souls of his characters—the startling pleasure and the lasting woe—proving himself a novelist of considerable seriousness and talent." —The New York Times Book Review

"Matt Haig's novel is not only head and shoulders above Twilight and all those other wimpy vampire romances, but, as an explorer of contemporary mores, Haig is more enjoyable company than writers with more 'literary' pedigrees." —Newsday

"The genius of novelist Matt Haig's book is that the vampirism takes a back seat—a wet, bloody back seat, but still—to the blackly comic family turmoil that's at the center of the story….Take that, you Twilight mob. The trains of vampire lit and actual lit just met, in a glorious burst of sharp red."
—The Dallas Morning News

"Haig classifies his books as black comedies, and The Radleys certainly fits that description…. [It's] laced with lethal doses of humor." —Pittsburgh Tribune-Review

"Irresistible….Full of clever turns, darkly hilarious spins….Even if you're suffering from vampire fatigue, you'll find The Radleys is a fun, fresh contribution to the genre."
—Associated Press