The Holy or the Broken: Leonard Cohen, Jeff Buckley, and the Unlikely Ascent of "Hallelujah" (Hardcover)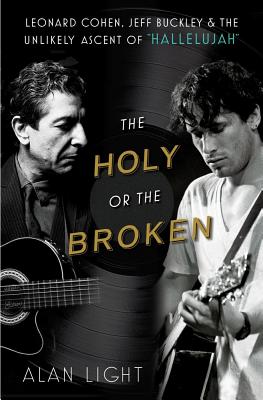 $25.00
Email or call for price.
Description
---
A fascinating account of the making, remaking, and unlikely popularizing of one of the most played and recorded rock songs in history—Leonard Cohen's beautiful and heartrending "Hallelujah."

"A venerated creator. An adored, tragic interpreter. An uncomplicated, memorable melody. Ambiguous, evocative words. Faith and uncertainty. Pain and pleasure."

Today, "Hallelujah" is one of the most-performed rock songs in history. It has become a staple of movies and television shows as diverse as Shrek and The West Wing, of tribute videos and telethons. It has been covered by hundreds of artists, including Bob Dylan, U2, Justin Timberlake, and k.d. lang, and it is played every year at countless events—both sacred and secular—around the world.

Yet when music legend Leonard Cohen first wrote and recorded "Hallelujah," it was for an album rejected by his longtime record label. Ten years later, charismatic newcomer Jeff Buckley reimagined the song for his much-anticipated debut album, Grace. Three years after that, Buckley would be dead, his album largely unknown, and "Hallelujah" still unreleased as a single. After two such commercially disappointing outings, how did one obscure song become an international anthem for human triumph and tragedy, a song each successive generation seems to feel they have discovered and claimed as uniquely their own?

Through in-depth interviews with its interpreters and the key figures who were actually there for its original recordings, acclaimed music journalist Alan Light follows the improbable journey of "Hallelujah" straight to the heart of popular culture. The Holy or the Broken gives insight into how great songs come to be, how they come to be listened to, and how they can be forever reinterpreted.
About the Author
---
Alan Light has been one of America's leading music journalists for the past twenty years. He was a writer at Rolling Stone, founding music editor and editor-in-chief of Vibe, and editor-in-chief of Spin magazine. He has been a contributor to The New Yorker, GQ, Entertainment Weekly, Elle, and Mother Jones. He is the author of The Skills to Pay the Bills, an oral history of the Beastie Boys; The Holy or the Broken: Leonard Cohen, Jeff Buckley, and the Unlikely Ascent of "Hallelujah"; and cowriter of the New York Times bestselling memoir by Gregg Allman, My Cross to Bear.
Praise For…
---
"Thoughtful and illuminating... [Mr. Light] is a fine companion for this journey through one song's changing fortunes."

"A combination mystery tale, detective story, pop critique and sacred psalm of its own."

"Brilliantly revelatory... A masterful work of critical journalism."

"A deeply researched mixture of critical analysis and cultural archaeology."

"Keeps the pages turning... A well-constructed, consistently enlightening book, which should have Cohen devotees and music fans alike seeking out their favorite version of the song."

"Fresh and compelling."

"Reverentially details every stage in the [song's] evolution—and along the way, he reveals the compelling stories behind some of its most iconic interpretations."

"Absorbing…Eloquent... Light expertly unpacks the song's long, strange journey to ubiquity."

"A must for music fans."

"Reads like an investigative oral biography of a song. A true songography."
Coverage from NPR