The Potty Mouth at the Table (Paperback)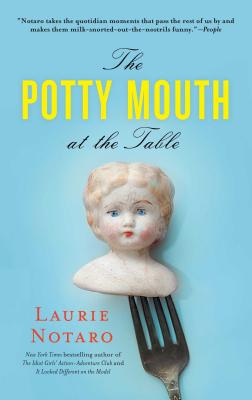 $16.00

Special Order - Subject to Availability
Staff Reviews
---
Dear Laurie Notaro,
You, Jen Lancaster, Jenny Lawson, and I need to get together and have the most hilarious, bitchin'-est sleepover ever! Or the most intense, epic author rumble — honestly, I'm fine with either. Thank you for writing another fabulous book that, to quote Monk, made me "LOL out loud." 
Sincerely, 
Me
— From
Memoirs (page 1)
Description
---
From the celebrated author best known for the Idiot Girls' Action-Adventure Club and described as "the funniest writer in the solar system" (The Miami Herald) comes a new laugh-out-loud collection of essays on rudeness.

Pinterest. Foodies. Anne Frank's underwear. New York Times bestselling author Laurie Notaro—rightfully hailed as "the funniest writer in the solar system" (The Miami Herald)—spares nothing and no one, least of all herself, in this uproarious new collection of essays on rudeness. With the sardonic, self-deprecating wit that makes us all feel a little better about ourselves for identifying with her, Laurie explores her recent misadventures and explains why it's not her who is nuts, it's them (and okay, sometimes it's her too).

Whether confessing that her obsession with buying fabric has reached junior hoarder status or mistaking a friend's heinous tattoo as temporary, Laurie puts her unique spin—sometimes bizarre, always entertaining—on the many perils of modern living in a mannerless society. From shuddering at the graphic Harry Potter erotica conjured up at a writer's group to lamenting the sudden ubiquity of quinoa ("It looks like larvae no matter how you cook it"), The Potty Mouth at the Table is whip-smart, unpredictable, and hilarious. In other words, irresistibly Laurie.
About the Author
---
Laurie Notaro was a reporter and a daily columnist at the metro daily The Arizona Republic before publishing twelve books of fiction and non-fiction with Random House and Simon and Schuster, several of which have been New York Times bestsellers. Her work covers the genres of humor, women's fiction, historical fiction, and literary fiction. She was a finalist for the Thurber Prize, and has been awarded the Hearst Award, the Golden Circle Award, and several awards from the Society of Professional Journalists. She lives in Eugene, Oregon.
Praise For…
---
"[V]ery, very funny…Entertaining beach reading for fans of humorous, breezy essays."
— Kirkus

"[S]mart and witty...Essay to essay, her unpredictability will keep readersenthralled and entertained. She even saves the best surprise for last. Ifyou're reading in public, be prepared to answer the question: 'What's sofunny?' "
— Jen Forbus, Jen's Book Thoughts

"New York Times bestselling author Laurie Notaro—rightfully hailed as "the funniest writer in the solar system" (The Miami Herald)—spares nothing and no one, least of all herself, in this uproarious new collection of essays on rudeness. With the sardonic, self-deprecating wit that makes us all feel a little better about ourselves for identifying with her...The Potty Mouth at the Table is whip-smart, unpredictable, and hilarious. In other words, irresistibly Laurie."
— Bookhounds

"Notaro is sharp, relatable, and pithy; a dynamic combination."
— Publishers Weekly