Hyperbole and a Half: Unfortunate Situations, Flawed Coping Mechanisms, Mayhem, and Other Things That Happened (Paperback)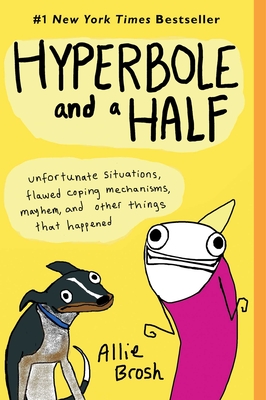 Staff Reviews
---
It was worth the wait–the highly anticipated companion to Allie Brosh's brilliant blog does not fail to disappoint! Brosh writes and illustrates her personal tales with the same overdramatic exaggeration we all give to our own stories. From hilariously improbable situations (such as a goose finding his way into her home), to her struggles with depression and low self-esteem, Allie's stories never fail to make me laugh, cringe and nod with a knowing smile. This is the perfect book for new and long-time fans alike!
—
Laura's Staff Picks
Have you ever read a book that you connected with so well that you want to give it to all your family members and friends so they'll understand the thoughts in your head? For me, Hyperbole and a Half is that book. Brosh pulls directly from her award-winning blog and handles topics like depression and anxiety in a candid and hilarious way that had me laughing to the point that I had tears in my eyes. Loyal followers of Brosh's blog and those who have never encountered her work before can appreciate the hilarity woven throughout the pages of this book, especially the twenty-somethings who are still trying to find their place in the world.
—
STAFF PICKS BY HEATHER H.
MUST RECOMMEND BOOK!! A section of this book was recommended to me when I was going through a tough time in my life and reading her writing made me feel like I wasn't the only person that felt the way I was feeling. Allie's writing is humorous and down to earth. I love the way she describes the world around her and the people in it. When I look at her drawings, they give me hope that my bad stick people really aren't that bad after all. I recommend this book to anyone who going through a rough time or anyone who just wants to have a laugh. It's great!
—
Heather G.
November 2013 Indie Next List
---
"Brosh has been an Internet sensation for years with literally thousands of fans following her scribbled illustrations on her blog. She has won over readers and stalkers alike with her honest and stark humor and her fun stories and rants. This book takes readers into not just the fun and fuzzy world of candied cakes and dumb dogs, but also into the brutally honest self-evaluation and exploration of its unique author. Always balancing the serious with the silly, the dark with the ridiculous, Brosh says the things we wish we could, admits the things we're ashamed of, and explores what we're afraid of, always with color and humor and, ultimately, with hope. And don't forget the scribbles!"
— Jocelyn Shratter, Bookshop Santa Cruz, Santa Cruz, CA
Description
---
#1 New York Times Bestseller

"Funny and smart as hell" (Bill Gates), Allie Brosh's Hyperbole and a Half showcases her unique voice, leaping wit, and her ability to capture complex emotions with deceptively simple illustrations.

FROM THE PUBLISHER:
Every time Allie Brosh posts something new on her hugely popular blog Hyperbole and a Half the internet rejoices.

This full-color, beautifully illustrated edition features more than fifty percent new content, with ten never-before-seen essays and one wholly revised and expanded piece as well as classics from the website like, "The God of Cake," "Dogs Don't Understand Basic Concepts Like Moving," and her astonishing, "Adventures in Depression," and "Depression Part Two," which have been hailed as some of the most insightful meditations on the disease ever written.

Brosh's debut marks the launch of a major new American humorist who will surely make even the biggest scrooge or snob laugh. We dare you not to.

FROM THE AUTHOR:
This is a book I wrote. Because I wrote it, I had to figure out what to put on the back cover to explain what it is. I tried to write a long, third-person summary that would imply how great the book is and also sound vaguely authoritative—like maybe someone who isn't me wrote it—but I soon discovered that I'm not sneaky enough to pull it off convincingly. So I decided to just make a list of things that are in the book:

Pictures
Words
Stories about things that happened to me
Stories about things that happened to other people because of me
Eight billion dollars*
Stories about dogs
The secret to eternal happiness*

*These are lies. Perhaps I have underestimated my sneakiness!
About the Author
---
Allie Brosh is the author of the #1 New York Times bestsellers Solutions and Other Problems and Hyperbole and a Half, which was named the Goodreads Choice Award Winner for Best Humor Book of the Year. Brosh has also given herself many prestigious awards, including "fanciest horse drawing" and "most likely to succeed." Find out more at HyperboleandaHalf.blogspot.com.
Praise For…
---
"I must have interrupted Melinda a dozen times to read to her passages that made me laugh out loud. . . . The adventures she recounts are mostly inside her head, where we hear and see the kind of inner thoughts most of us are too timid to let out in public. Despite her book's title, Brosh's stories feel incredibly—and sometimes brutally—real. . . . It is no hyperbole to say I love her approach—looking, listening, and describing with the observational skills of a scientist, the creativity of an artist, and the wit of a comedian."
— Bill Gates

"Imagine if David Sedaris could draw . . . Enchanting."
— People (4 stars, People Pick)

Winner of the Goodreads Choice Award for Best Humor Book of the Year
An NPR Best Book of the Year
A Library Journal Best Book of the Year, Memoirs
— .

"I would gladly pay to sit in a room full of people reading this book, merely to share the laughter."
— Philadelphia Inquirer

"My wife, who rarely reads a book published after 1910 and who is difficult to make laugh, wept with pleasure while reading these comic illustrated essays from Ms. Brosh, who runs a popular web comic and blog. I had to find out what the fuss was about. The subjects run from light (cakes, dogs) to dark (the author's own severe depression), and they foreground offbeat feeling and real intellect. Ms. Brosh's inquisitive mind won me over, too."
— Dwight Garner

"In a culture that encourages people to carry mental illness as a secret burden . . . Brosh's bracing honesty is a gift."
— Chicago Tribune

"Brosh captures humanity at its simultaneous worst and best with a razor wit that allows us to laugh at even our darkest of selves."
— The Advocate (Baton Rouge)

"Will make you laugh until you sob, even when Brosh describes her struggle with depression."
— Entertainment Weekly

"This is the BOOK OF THE YEAR."
— Elizabeth Gilbert

"One of the best things I've ever read in my life."
— Marc Maron

"This book made me laugh, cry, and leak. It was honest, poignant, and ridiculously silly in all the best ways and I'm better for having read it. Plus, doggies!"
— Jenny Lawson, The Bloggess and author of Let's Pretend This Never Happened

"An Internet-era treasure, an unexpected wonder of the 21st century."
— Cory Doctorow, BoingBoing.com

"Brosh is a connoisseur of the human condition."
— Kirkus Reviews

"Brosh is an evocative writer who bares her foibles and shortcomings, from childhood to her present life, with a lack of vanity and a sense of catharsis that is palpable."
— Publishers Weekly

"Get this for the smart people who appreciate humor in your life, and they won't be disappointed."
— io9.com

"The whole blog is inspired."
— Andrew Sullivan, The Daily Dish (The Atlantic)

"Anyone seeking an accessible look at someone suffering from depression or some really delightful dog drawings need search no further."
— Time Out New York

"Both singular and familiar—the popularity of Brosh's blog and her absurd, exuberant voice meant that she started a lot of memes you might have come across—Hyperbole and a Half is a very funny reminder that it's normal to not have your shit together, and to know that it's okay to ask for help."
— GQ