Beautiful Inside and Out: Conquering Thyroid Disease with a Healthy, Happy, "Thyroid Sexy" Life (Paperback)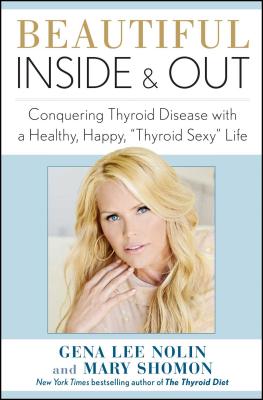 $20.99

Not Available In-Store - Usually Ships from Warehouse in 1-5 Days
Description
---
Baywatch star Gena Lee Nolin shares her story of undergoing and overcoming two decades of misdiagnosed thyroid disease and shows how the estimated sixty million Americans suffering from thyroid disease can learn to live healthy, happy, and beautiful lives.

The most comprehensive, user-friendly handbook available for anyone suffering from thyroid disease: everything you need to know to reclaim the happy, healthy, wonderful life you deserve!

Gena Lee Nolin, a star of the hit TV series Baywatch, was the picture of perfect health. Then suddenly she was plagued by a baffling array of symptoms: exhaustion, brain fog, bloating, depression, hair loss, and debilitating changes in energy, weight, and mood, culminating in lifethreatening symptoms during her pregnancy. Like millions of American women, Nolin was struggling with undiagnosed thyroid disease. Thyroid problems leave women feeling anything but beautiful, and often they find themselves stigmatized by friends, family, the media—even doctors. But it doesn't have to be that way!

Collaborating with New York Times bestselling author and internationally recognized thyroid patient advocate Mary Shomon, Nolin uses her own story to deliver practical information vital for anyone struggling with thyroid issues. Readers will learn how to get diagnosed accurately and treated effectively, how to lose weight, balance hormones, solve beauty challenges, and regain their self-confidence. Full of practical checklists, questionnaires, and advice from America's leading experts in thyroid and hormonal health, here is a heartfelt, helpful guide for women who are ready to feel strong, sexy, and beautiful again.
About the Author
---
Gena Lee Nolin had a starring role on the international hit TV show Baywatch and starred in her own series, Sheena. She got her start in Hollywood as one of "Barker's Beauties" on The Price Is Right. She has hosted VH-1's Sex Appeal and appeared on Extra, Hollywood Squares, E!, Lifetime, and The Oprah Winfrey Show. Gena is active in various causes, is married to former NHL player Cale Hulse, and is a mother of three.

Mary Shomon is an internationally known patient advocate in thyroid disease, hormones, and weight loss. Author of eleven books, including the New York Times bestseller The Thyroid Diet, Shomon is founder and guide of the award-winning About.com thyroid site and is one of the stars of the PBS Healthy Hormones documentary series.
Praise For…
---
"Reading BEAUTIFUL INSIDE AND OUT feels like you're out with your best girlfriends."
— Austin MD Magazine

"A must read. This book has given me and my husband clarity about the complications I experienced in the years following my total thyroidectomy. Gena Lee Nolin's brave journey provides a great sense of support, and will be life changing for so many."
— Nancy Valen, actor and television producer and Nels Van Patten, actor and professional tennis player

"An honest and inspiring journey of real advocacy that will help others delve into their own health and wellness, and that exposes the true meaning of beauty. Bravo!"
— Rachel Hunter

"Gena Lee Nolin is better than ever in her new book. Always a selfless giver of good health. As God has blessed her, she opens her heart in the pages of this book to be a blessing to us all!"
— Stephen Baldwin

Praise for Living Well With Hypothyroidism by Mary Shomon

"In this first-rate book by Mary Shomon...the disorder, its myths, and medicine's successes and failures at dealing with it are thoroughly examined. This is not a book that rehashes old facts on thyroid disease. Shomon instead challenges patients and their doctors to look deeper and try harder to resolve the complicated symptoms of hypothyroidism."
— Los Angeles Times

"If I could recommend only one book on thyroid problems for my patients, this would be it."
— Elizabeth Lee Vliet, M.D.

"Vital for hypothryoid patients who want to get well, and for physicians who want to do so."
— Dr. John Lowe