The Orpheus Clock: The Search for My Family's Art Treasures Stolen by the Nazis (Hardcover)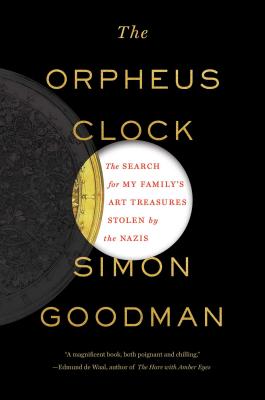 Description
---
The passionate, gripping, true story of one man's single-minded quest to reclaim what the Nazis stole from his family, their beloved art collection, and to restore their legacy.

Simon Goodman's grandparents came from German-Jewish banking dynasties and perished in concentration camps. And that's almost all he knew about them—his father rarely spoke of their family history or heritage. But when he passed away, and Simon received his father's old papers, a story began to emerge.

The Gutmanns, as they were known then, rose from a small Bohemian hamlet to become one of Germany's most powerful banking families. They also amassed a magnificent, world-class art collection that included works by Degas, Renoir, Botticelli, Guardi, and many, many others. But the Nazi regime snatched from them everything they had worked to build: their remarkable art, their immense wealth, their prominent social standing, and their very lives.

Simon grew up in London with little knowledge of his father's efforts to recover their family's prized possessions. It was only after his father's death that Simon began to piece together the clues about the Gutmanns' stolen legacy and the Nazi looting machine. He learned much of the collection had gone to Hitler and Hermann Goering; other works had been smuggled through Switzerland, sold and resold to collectors and dealers, with many works now in famous museums. More still had been recovered by Allied forces only to be stolen again by heartless bureaucrats—European governments quietly absorbed thousands of works of art into their own collections. Through painstaking detective work across two continents, Simon has been able to prove that many works belonged to his family, and successfully secure their return.

With the help of his family, Simon initiated the first Nazi looting case to be settled in the United States. They also brought about the first major restitution in The Netherlands since the post-war era.

Goodman's dramatic story, told with great heart, reveals a rich family history almost obliterated by the Nazis. It is not only the account of a twenty-year long detective hunt for family treasure, but an unforgettable tale of redemption and restoration.
About the Author
---
Born in London shortly after WWII and educated at the French Lycée in London, then at Munich University, Simon Goodman entered the music business in the late 1960s, specializing in breaking new British artists abroad. Goodman is married to the actress and teacher May Quigley and has one son and three daughters. He lives in Los Angeles where his search for his family's treasures continues.
Praise For…
---
"This is a magnificent book, both poignant and chilling. Ultimately it stands as testimony to how family stories can grip across generations, and how fierce is the impulse to right wrongs. It is very moving indeed -- a huge achievement."
— Edmund de Waal, author of The Hare with Amber Eyes: A Hidden Inheritance

"A remarkable achievement. The Nazis stole the Gutmann family's art and tried to erase them from history; they almost succeeded. Here,now, with the sweep of a pen and the diligence of a crime reporter, author Simon Goodman has restored his family's legacy. Shocking, stunning and totally unputdownable, The Orpheus Clock is an absolute must read."
— Annie Jacobsen, New York Times bestselling author of Operation Paperclip

"An extraordinary piece of history...Even readers well familiar with World War II and Holocaust history will find this a fresh and lively read."

"With a novelist's narrative gifts, Goodman movingly portrays his family's victimization by the Nazis and the post-war repercussions of those events....In combining a modern-day detective story with nuanced context for its importance, Goodman produces much more than another Holocaust book."

"Goodman's story is alternately wrenching and inspiring...extraordinary...An emotional tale of unspeakable horrors, family devotion, and art as a symbol of hope."

"When [Goodman's] father died at the age of 80...letters, documents, and other correspondences revealed a trove of family secrets that led Goodman and his family on a quest for both justice and discovery of their family history....The search is still ongoing, but this account of the struggle so far is both arresting and poignant, combining elements of a family chronicle and an intricate detective story."