Imagination Illustrated: The Jim Henson Journal (Hardcover)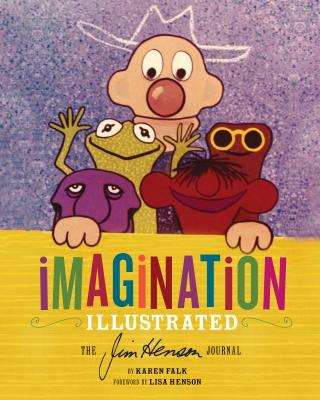 $29.95
Email or call for price.
Staff Reviews
---
Jim Henson has been one of my heroes for as long as I can remember, and this amazing book illustrates why. It can barely contain the endless fountain of his creativity -- here you'll find page after page of marvelous sketches, storyboards, and discarded scripts, alongside both family photos and stills of his beloved Muppets. Best of all, if offers a behind-the-scenes look at his creative process. I loved seeing how even his biggest, craziest ideas started out small. One of Henson's gifts was the ability to recognize other visionaries like himself, to illuminate their talents and convince them to join him in creating all things unique, weird and new. His fearless, try-anything attitude and willingness to risk failure is inspiring. If you're in need of a boost of confidence to revisit your own creative endeavors, look no further -- Jim's energy and enthusiasm leaps off every page.
—
EMMY'S STAFF PICKS
Description
---
Jim Henson's iconic puppet characters, fantastic worlds, and warm humor have delighted millions of people of all ages. His incredibly diverse body of work, from the Muppets to the world of The Dark Crystal, reveals his charm and genius to fans old and new. Compiled directly from The Jim Henson Company archives, Imagination Illustrated adapts the diary that Jim faithfully kept throughout his career, supplementing it with a trove of little-seen visual material, including rare sketches, personal and production photographs, storyboards, doodles, and much more. Throughout, archivist Karen Falk delves into the behind-the-scenes details of Henson's life and artistic process. Sure to delight anyone who has enjoyed Henson's creations—seeing early drawings of Kermit and Rowlf is like smiling over childhood photos of dear friends—this lovely book celebrates Jim's life and his magic.
About the Author
---
Karen Falk is archives director at The Jim Henson Company and curator of The Jim Henson Legacy / Smithsonian traveling exhibition "Jim Henson's Fantastic World." She lives in Bronxville, New York.

Lisa Henson is the eldest daughter of Jim Henson, chief executive officer of The Jim Henson Company, and executive producer of several hit series for children. She lives in Beverly Hills, California.
Praise For…
---
"Usually I recommend these "Art of" books because - let's face it - even if the movie is no-good, the pre-vis and character designs are usually fantastic. Wreck-It Ralph is not only a great little film, but the artwork is especially fun. Director Rich Moore assembled a hand-picked crew of cartoonists to inspire the look of the film and they did not fail. No wonder the stuff on the screen looks so good - the preliminary art pictured here shows he had a lot of quality to choose from. Mike Gabriel, Jin Kim, Bill Schwab, Lorelay Bove, Glen Keane, and Minkyu Lee are just a few of the artists supplying the eye candy here, providing the appropriate "sugar rush" you require. This is a good one."
-CartoonBrew.com

"See if you can crack the spine on Imagination Illustrated: The Jim Henson Journal by Karen Falk without that song rolling through your mind. It seems to emanate from the pages of this raucous-looking book-a tonal match to the color and controlled chaos JimHenson's puppets embodied. Anyone who visited last year's "Jim Henson's FantasticWorld" exhibit at theMuseumof Science and Industry will enjoy this book. It spans Henson's career, from quirky college productions through goofball TV commercials, through theMuppets and Sesame Street and Fraggle Rock to his unexpected death at age 53 in 1990. It features sketches, footnoted scripts and lots of pictures. His playful work made adults and children smile; this book will too."
-Chicago Tribune [gift guide pick]

"Anyone whose formative childhood years happened during the 1970s and '80s owes a great deal to Mr. Jim Henson, the puppeteering genius behind The Muppets, Fraggle Rock, and Labyrinth, amongst other creative endeavors. Throughout his iconic career, Henson kept a detailed, honest journal, and, finally, it's now available for fans and historians alike in the form of Imagination Illustrated, taken directly from The Jim Henson Company archives. As visually driven as it is narratively charged, the gorgeous 192-page book also includes tons of never-before-seen sketches, storyboards, and on-set pictures."
--Complex.com

"Imagine flipping through Jim Henson's journals filled with doodles, notes and photographs he used to illustrate major life and work events. Writer Karen Falk combined Henson's journal excerpts with unproduced material to show the evolution of Kermit and the wellsprings of Henson's creativity and inspiration" -
Cleveland Plain Dealer

"Meticulously annotated and lovingly compiled, Imagination Illustrated: The Jim Henson Journal is at once an invaluable record of modern creative history and an affectionate celebration of Henson's legacy and magic."
Brain Pickings

"Now this is super cool. Jim Henson kept a diary throughout his career and this book is a collection of Henson's own words, rare sketches, personal photos and much more. Any book that celebrates the genius of Jim Henson is an automatic buy for me. "
Ain't It Cool News

"'You know what would be awesome? A print version of Jim's Red Book.' That's what we all said, and that's just about what Karen Falk and the Jim Henson Company gave us. It's a huge book, chock-full of new stories, artwork, photos, and more surrounding Jim's life. It's a gorgeous book, and we hear it's only the tip of the Henson Archives iceberg. So now we're all saying, 'You know what would be awesome? Volume 2.' "
--ToughPigs.com

"If you thought the Muppets appeared out of nowhere, fully formed and ready to rock, you are sorely mistaken. They, of course, were the brain child of the late, great visionary, Jim Henson. A new book entitled Imagination Illustrated written by Jim Henson Company archives director Karen Falk with a foreword by Henson's daughter Lisa, combines passages from the Muppet maestro's own diary, which he kept through his whole career, with sketches, storyboards, photographs and other visual material to enlighten readers on the early days of the genius' work. Specifically adorable are early drawings of Kermit and which are like seeing photos of your friends from elementary school, if they were frogs."
Nerdist News

"It's a rare gift to peer into the mind of a genius, but that's exactly the gift that Imagination Illustrated: The Jim Henson Journal presents. Using as its base the journal Henson kept for over 20 years, it illustrates his entries with design artwork, photos, and more. A wonderful, wondrous tome."
- A Site Called Fred

"That's exactly what Imagination Illustrated is: a gift to the Muppet fans. The book is meticulously planned, brilliantly organized, and incredible to pore through again and again...Karen Falk's Imagination Illustrated: The Jim Henson Journal is a must-own treasure if you're a Muppet fan."
--The Muppet Mindset