You'd Better Not Die or I'll Kill You: A Caregiver's Survival Guide to Keeping You in Good Health and Good Spirits (Paperback)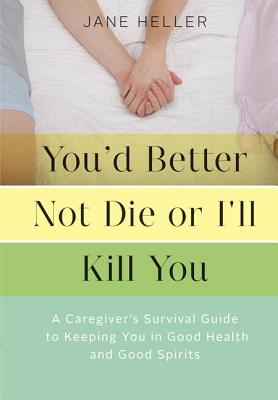 $18.95
Email or call for price.
Description
---
Bestselling writer Jane Heller thought she'd found her dream man—until he turned out to be a "frequent flier," the term doctors and nurses use to refer to patients who land in the E.R. more often than the average person goes to Starbucks. Here, Jane shares her experiences of looking after her chronically ill husband with Nora Ephron–like wit, and offers practical guidance for handling it all without drowning. With advice on staying healthy while caring for a loved one and learning to communicate with medical staff, plus wisdom from other caregivers and experts, this is a personal and invaluable tool kit that also manages to prompt laughter and inspire. For the more than 65 million caregivers in the US alone, this book couldn't be more timely or important.
About the Author
---
Jane Heller is the author of 13 novels. Jane lives in Santa Barbara, California, with her husband, Michael Forester.
Praise For…
---
"Jane Heller takes us on her heartfelt, humor-filled journey caring for her husband, channeling Nora Ephron along the way. This is a must-read eye witness account of what it takes to care for a loved one and how to keep your spirits lifted in the process."
-Sherri Snelling, CEO, Caregiving Club

"Jane Heller takes us on her heartfelt, humor-filled journey caring for her husband, channeling Nora Ephron along the way. This is a must-read eye witness account of what it takes to care for a loved one and how to keep your spirits lifted in the process."
-Sherri Snelling, CEO, Caregiving Club

"Jane Heller takes us on her heartfelt, humor-filled journey caring for her husband, channeling Nora Ephron along the way. This is a must-read eye witness account of what it takes to care for a loved one and how to keep your spirits lifted in the process."
-Sherri Snelling, CEO, Caregiving Club

"Jane's book is so engaging and entertaining. She tells her own caregiving story, and provides insights into everything from siblings to doctors to hospitals. Great read!"
-Barbara McVicker, Host of the PBS Special "Stuck in the Middle: Caring for Mom and Dad" and Eldercare Author

"Jane's book is so engaging and entertaining. She tells her own caregiving story, and provides insights into everything from siblings to doctors to hospitals. Great read!"
-Barbara McVicker, Host of the PBS Special "Stuck in the Middle: Caring for Mom and Dad" and Eldercare Author

"Jane's book is so engaging and entertaining. She tells her own caregiving story, and provides insights into everything from siblings to doctors to hospitals. Great read!"
-Barbara McVicker, Host of the PBS Special "Stuck in the Middle: Caring for Mom and Dad" and Eldercare Author

"A combination of autobiography, anecdotes from other caregivers, and interviews with experts, this gem of a book makes good on its promise. Written in a no-nonsense style with a healthy dose of humor, it offers a wealth of advice on everything from navigating the healthcare system to getting more sleep to the importance of human touch. It's a valuable resource for caregivers - whether taking care of someone with a stroke, Crohn's disease, dementia or many other conditions. I recommend it highly."
-Marie Marley, author of the award-winning Come Back Early Today: A Memoir of Love, Alzheimer's and Joy

"A combination of autobiography, anecdotes from other caregivers, and interviews with experts, this gem of a book makes good on its promise. Written in a no-nonsense style with a healthy dose of humor, it offers a wealth of advice on everything from navigating the healthcare system to getting more sleep to the importance of human touch. It's a valuable resource for caregivers - whether taking care of someone with a stroke, Crohn's disease, dementia or many other conditions. I recommend it highly."
-Marie Marley, author of the award-winning Come Back Early Today: A Memoir of Love, Alzheimer's and Joy

"A combination of autobiography, anecdotes from other caregivers, and interviews with experts, this gem of a book makes good on its promise. Written in a no-nonsense style with a healthy dose of humor, it offers a wealth of advice on everything from navigating the healthcare system to getting more sleep to the importance of human touch. It's a valuable resource for caregivers - whether taking care of someone with a stroke, Crohn's disease, dementia or many other conditions. I recommend it highly."
-Marie Marley, author of the award-winning Come Back Early Today: A Memoir of Love, Alzheimer's and Joy

"Jane Heller's humorous and compassionate book has real-world advice for caregivers of all kinds, covering topics from diet and exercise, to surviving long hours in hospitals and being taken seriously by medical providers. Jane even covers topics others don't, such as the sex life of the caregiver, and finding humor and the silver lining in a world of despair. With input from experienced caregivers, it's a must-read for all who face this daunting task."
-Susan Disney Lord, 2012 Alzheimer's Association Southland Chapter Caregiver of the Year

"Jane Heller's humorous and compassionate book has real-world advice for caregivers of all kinds, covering topics from diet and exercise, to surviving long hours in hospitals and being taken seriously by medical providers. Jane even covers topics others don't, such as the sex life of the caregiver, and finding humor and the silver lining in a world of despair. With input from experienced caregivers, it's a must-read for all who face this daunting task."
-Susan Disney Lord, 2012 Alzheimer's Association Southland Chapter Caregiver of the Year

"Jane Heller's humorous and compassionate book has real-world advice for caregivers of all kinds, covering topics from diet and exercise, to surviving long hours in hospitals and being taken seriously by medical providers. Jane even covers topics others don't, such as the sex life of the caregiver, and finding humor and the silver lining in a world of despair. With input from experienced caregivers, it's a must-read for all who face this daunting task."
-Susan Disney Lord, 2012 Alzheimer's Association Southland Chapter Caregiver of the Year

"This book is the perfect companion for every caregiver. You only have to read the Table of Contents to know Jane Heller has given you the gifts of comfort, humor, strength and solidarity. Take it to the waiting room and always keep it within easy reach!"
-Pauline Jones, RN, Chief Operating Officer, Visiting Nurse Hospice Care of Santa Barbara

"This book is the perfect companion for every caregiver. You only have to read the Table of Contents to know Jane Heller has given you the gifts of comfort, humor, strength and solidarity. Take it to the waiting room and always keep it within easy reach!"
-Pauline Jones, RN, Chief Operating Officer, Visiting Nurse Hospice Care of Santa Barbara

"This book is the perfect companion for every caregiver. You only have to read the Table of Contents to know Jane Heller has given you the gifts of comfort, humor, strength and solidarity. Take it to the waiting room and always keep it within easy reach!"
-Pauline Jones, RN, Chief Operating Officer, Visiting Nurse Hospice Care of Santa Barbara

"This book will be an affirmation to let you know you're not alone, that your work is incredibly important, and that there are effective strategies other caregivers have found helpful that might also be applied to help your situation be a bit easier to bear."
-Dawn Marcus, MD

"This book will be an affirmation to let you know you're not alone, that your work is incredibly important, and that there are effective strategies other caregivers have found helpful that might also be applied to help your situation be a bit easier to bear."
-Dawn Marcus, MD

"This book will be an affirmation to let you know you're not alone, that your work is incredibly important, and that there are effective strategies other caregivers have found helpful that might also be applied to help your situation be a bit easier to bear."
-Dawn Marcus, MD