Tell Me a Tattoo Story (Hardcover)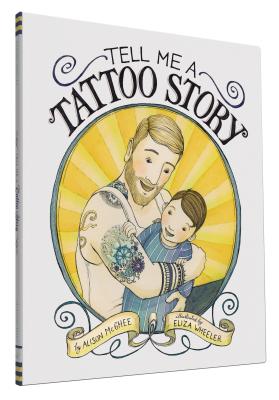 $16.99

Not Available In-Store - Usually Ships from Warehouse in 1-5 Days
Staff Reviews
---
As a tattooed parent, I feel that I see my child differently, in that I know one day he may have tattoos as well, and that his skin is his skin - his stories, his stories. To him, Mommy has drawings on her, and that is just that, normal. The stigma of tattoos has lifted, and even still, I find myself observing fellow tattooed parents, thinking, "See. They're good parents, too." We are good parents! Tattoos are stories, and as a lover of literature, you can bet my tattoos come with stories too. Every person, inked or not, has a tale to tell. Some of us just wear ours. This children's book is inclusive; it is wrapping up the new world, with all of the children and their inked loved ones, and saying, we see you. Not only that, but the artwork and the writing is heartwarming and beautiful. This book is a gift for the child and the parent.
—
Jordan
As a person with tattoos myself, I was excited to finally see a picture book featuring ink. In Tattoo Story, a little boy asks his dad to tell him about the colorful images adorning the father's body. Each tattoo has a meaning, from childhood books and memories to important events in the father's life, and the explanations are rendered in vibrant images. From the father-son bonding aspect to the use of tattoos as a common, beautiful occurrence, Tattoo Story is a sweet and lovely tale that will make inked young parents and their children smile.
—
Camilla
I'll admit that I cry a lot more now as parent than I ever have, but it doesn't lessen the sentiment when I say that Tell Me a Tattoo Story made me tear up as I was reading it. Being a tattooed parent, heck, being a tattooed person, I know that people see me in a different way when my skin is exposed, but this little book makes tattoos special as a dad tells his little boy the story behind all of his art, leaving the very best for last. I am so excited to take this book home to my son who is still small enough that he points to my skin and says "Tattoo? Tattoo." and wants me to tell him all about it.
—
Heather
Description
---
A bestselling author-illustrator duo join forces to create a modern father-son love story. The father tells his little son the story behind each of his tattoos, and together they go on a beautiful journey through family history. There's a tattoo from a favorite book his mother used to read him, one from something his father used to tell him, and one from the longest trip he ever took. And there is a little heart with numbers inside—which might be the best tattoo of them all. Tender pictures by New York Times bestselling illustrator Eliza Wheeler complement this lovely ode to all that's indelible—ink and love.
About the Author
---
Alison McGhee is the New York Times bestselling author of Someday, Little Boy, and Making a Friend. She lives in Minneapolis and Vermont.

Eliza Wheeler studied art and design at the University of Wisconsin–Stout, and moved to Los Angeles to begin creating children's books. She is the author and illustrator of several acclaimed books for young readers, including the New York Times bestseller Miss Maple's Seeds.
Praise For…
---
"A love story between father and son."--Scary Mommy

"A fresh, contemporary take on the bond between images, storytelling, and, yes, hipster dads."-Booklist

"Parents with or without tattoos will be touched by the heartwarming tale about sharing your past with your children-it leaves a mark."--Real Simple

"Each memory tells the larger story of a man who loves and values his family."--Kirkus Reviews

"A fun read. the tender story will resonate with young audiences."-School Library Journal

"A tale of love and ink and the staying power that both promise."--Shelf Awareness

"Could give kids an opportunity to learn about their own parents' epic designs."-Bulletin of the Center for Children's Books

"Here, tattoos are emblems of personal history, as a father describes to his son what inspired each one... lush, detailed images beautifully dramatize each moment from the father's past."--The New York Times

"Highlights the connections between images and storytelling."--Houston Family

"Makes very plain the love that is behind each tattoo memory."-Kirkus Reviews

"A deeply touching story... and right on trend as well."--Publishers Weekly