T. Rex Time Machine: (Funny Books for Kids, Dinosaur Book, Time Travel Adventure Book) (Hardcover)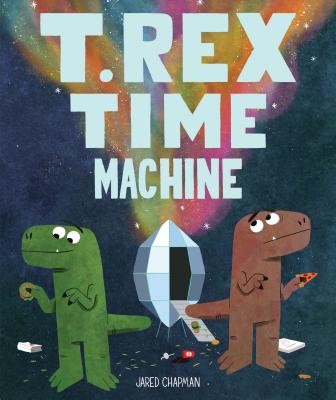 $16.99
Not Available In-Store - Usually Ships from Warehouse in 1-5 Days
Description
---
"Hilarious!" —Pragmatic Mom

"Certain to keep parents and kids alike giggling." —Booking Mama

When two hungry dinosaurs jump into a time machine, they're transported to an unbelievable, magical, surreal future: RIGHT HERE, RIGHT NOW! On the T. Rexes' madcap voyage into the unknown, they encounter the many wonders of the modern world: Police cars! Phones! Microwaves! They don't know how they'll get home—but why would they want to? Acclaimed author and illustrator Jared Chapman combines two favorite kid topics—time travel and dinosaurs—with bold colors, big jokes, and a hilarious escapade. This raucous, laugh-out-loud adventure will delight the very young and keep older readers giggling long into the future.
About the Author
---
Jared Chapman is the author and illustrator of many books for young readers, including Vegetables in Underwear and Fruits in Suits. He lives in Texas with his family.
Praise For…
---
"Certain to keep parents and kids alike giggling." --Booking Mama

"Hilarious!" --Pragmantic Mom

"A hilarious picture book that will leave you hungry for french fries and donuts--and more dinosaur adventures!" —Twenty by Jenny

"Should leave young readers amused-and maybe a little hungry."—Kirkus Reviews

"Chapman fully exploits this wacky premise. to bring hungry dinosaurs into today's glorious pizza-filled reality."—Publishers Weekly

"[T. Rex Time Machine: Dinos in De-Nile] is stuffed with all the wacky fantasies a child could want. The zany misadventures of these dinosaurs are just perfect for kids looking for a laugh."School Library Journal

"Buoyant illustrations will keep readers giggling, and the dialogue bubbles will make for high-energy read-alouds."—Booklist