Tiny T. Rex and the Grand Ta-Da! (Tiny T Rex) (Hardcover)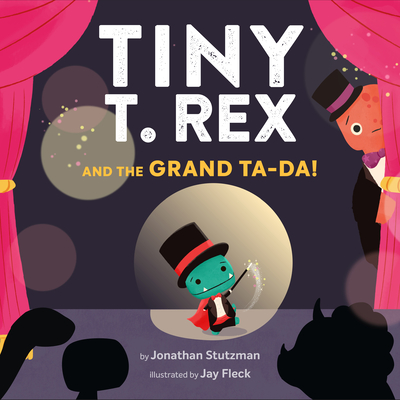 Description
---
In the newest picture book in the bestselling Tiny T. Rex series, lovable friends Tiny and Pointy challenge themselves when they enter the school talent show.
Kids love dinosaurs—and dinosaur books! Tiny T. Rex is a dinosaur kids especially love because he's a tiny dinosaur in a big world—just like them. 
Tiny and his friend Pointy
really
want to win their school's talent show. And they think they know just how to do it: They will become great magicians, just like their hero, The Amazing Presto. Together they work hard on their act, including the grandest trick of all: to make something disappear. But it isn't easy to become magicians, and just when they've mastered their skills, they face the even greater challenge of performing in front of an audience!  
With their trademark humor and warmth, beloved duo Tiny and Pointy prove that every problem can be overcome as long as it's met with patience and understanding.  
EVERYONE LOVES TINY: The first book about Tiny,
Tiny T. Rex and the Impossible Hug
, was an immediate bestseller from the moment it was published. All the books in the Tiny T. Rex series have been indie bookstore bestsellers, Amazon top titles, and Amazon best books.
GREAT MESSAGE: Tiny and Pointy persist in pursuing their dream despite obstacles, and despite doubts about being good enough. This is a positive book that will get kids excited about trying new things.
GREAT VALUES: Every Tiny book features Tiny solving common childhood challenges with love, a positive attitude, and friendship.
ENGAGING READ-ALOUD: Funny, charming text and cute, colorful art will make this book a storytime favorite kids will want to read again and again.
Perfect for:
Dinosaur-loving kids from babies and toddlers through ages 4-6
Parents, grandparents, teachers, and caregivers seeking funny kids' books
Fans of sweet, warm-hearted family picture books
Baby shower, children's birthday, holiday, or classroom gift
About the Author
---
Jonathan Stutzman is an award-winning children's book author and filmmaker. His work for children includes the bestselling Tiny T. Rex series as well as Llama Destroys the World illustrated by Heather Fox, Bear Is a Bear illustrated by Dan Santat, and many others. The only magic trick Jonathan knows is how to make donuts (and other tasty foods) disappear. He lives in Pennsylvania, where right now he's most likely reading or thinking about new stories.
 
Jay Fleck is the author-illustrator of Crinkle, Crinkle, Little Car and the illustrator of a number of other children's books, including the bestselling Tiny T. Rex series. He resides in a suburb south of Chicago with his wife, two children, and loyal dog, Otis. He spends his spare time running and reading (but not at the same time).
 
Praise For…
---
"Stutzman's story touches on hard work and preparation, feelings of anxiety, and perseverance…. the two [Tiny Pointy] are a charming pair." — Kirkus Reviews