Never Seduce a Scot (Montgomerys and Armstrongs #1) (MP3 CD)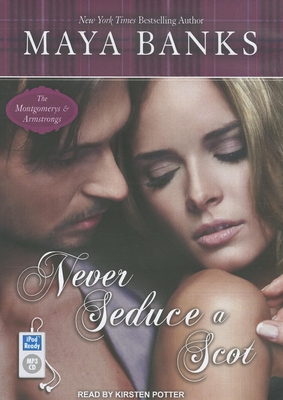 Other Books in Series
This is book number 1 in the Montgomerys and Armstrongs series.
Description
---
Eveline Armstrong is fiercely loved and protected by her powerful clan, but outsiders consider her touched. Beautiful, fey, with a level, intent gaze, she doesn't speak. No one, not even her family, knows that she cannot hear. Content with her life of seclusion, Eveline has taught herself to read lips and allows the outside world to view her as daft. But when an arranged marriage into a rival clan makes Graeme Montgomery her husband, Eveline accepts her duty-unprepared for the delights to come. Graeme is a rugged warrior with a voice so deep and powerful that his new bride can hear it, and hands and kisses so tender and skilled that he stirs her deepest passions. Graeme is intrigued by the mysterious Eveline, whose silent lips are ripe with temptation and whose bright, intelligent eyes can see into his soul. As intimacy deepens, he learns her secret. But when clan rivalries and dark deeds threaten the wife he has only begun to cherish, the Scottish warrior will move heaven and earth to save the woman who has awakened his heart to the beautiful song of a rare and magical love.
About the Author
---
Maya Banks is the "New York Times" and "USA Today" bestselling author of over thirty novels, including "Hidden Away," "No Place to Run," "The Darkest Hour," and "Sweet Seduction."

Kirsten Potter has won "AudioFile" Earphones Awards for her reading of "The Snowball" by Alice Schroeder and her performance as Barbara in George Bernard Shaw's "Major Barbara." Her reading of "Madapple" by Christina Meldrum was a "Booklist" Editors' Choice for Best Audiobook 2008.