Teach Your Child Meditation: 70 Fun & Easy Ways to Help Kids De-Stress and Chill Out (Paperback)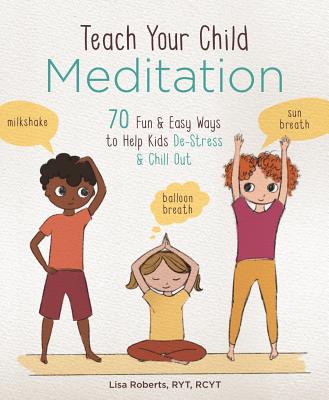 $15.95
Email or call for price.
Description
---
Help your child calm down, relieve stress, and achieve greater mindfulness with this illustrated guide to teaching kids meditation and breathing techniques--complete with 70 step-by-step exercises. Even children need to learn ways to calm and center themselves. With its hands-on exercises, Teach Your Child Meditation gives kids ages 5-12 important tools to relieve anxiety, cultivate mindfulness, and gain confidence. More than 70 illustrated exercises--which all have fun names like "Funny Bunny Breath" and "Elephant Shower"--are organized to highlight their special benefits: choose from such categories as "Hocus Pocus, I Can Focus," "The Chill Zone," "Stress Busters," or a section with group exercises that teachers and parents alike will love. Whether the goal is for a child to sleep better, concentrate before a big test or game, or enjoy some much-needed relaxation, this guide helps anyone who loves and plays with children to introduce them to the many benefits of meditation.
About the Author
---
Lisa Roberts is a registered yoga teacher and registered children's yoga teacher, and holds a certificate in children's yoga therapy. She has worked in the pediatric wellness field since 2006 and currently runs the inpatient yoga program at the St. Louis Children's Hospital. Lisa offers professional training teaching Kids Adaptive and Accessible Yoga for pediatric professionals, parents, and yoga teachers. In addition to Teach Your Child Meditation, she has developed a line of teaching tools for pediatric yoga teachers, parents, and kids.