The Art of Asking (Signed Edition): How I Learned to Stop Worrying and Let People Help (Hardcover)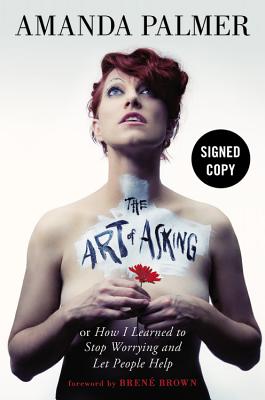 $27.00
Email or call for price.
Description
---
Rock star, crowdfunding pioneer, and TED speaker Amanda Palmer knows all about asking. Performing as a living statue in a wedding dress, she wordlessly asked thousands of passersby for their dollars. When she became a singer, songwriter, and musician, she was not afraid to ask her audience to support her as she surfed the crowd (and slept on their couches while touring). And when she left her record label to strike out on her own, she asked her fans to support her in making an album, leading to the world's most successful music Kickstarter.

Even while Amanda is both celebrated and attacked for her fearlessness in asking for help, she finds that there are important things she cannot ask for-as a musician, as a friend, and as a wife. She learns that she isn't alone in this, that so many people are afraid to ask for help, and it paralyzes their lives and relationships. In this groundbreaking book, she explores these barriers in her own life and in the lives of those around her, and discovers the emotional, philosophical, and practical aspects of The Art of Asking.

Part manifesto, part revelation, this is the story of an artist struggling with the new rules of exchange in the twenty-first century, both on and off the Internet. The Art of Asking will inspire readers to rethink their own ideas about asking, giving, art, and love.
About the Author
---
Amanda Palmer is a world-renowned singer, songwriter, activist, director, and blogger who first came to prominence as one half of the internationally acclaimed punk cabaret duo The Dresden Dolls.

She is a fellow at the Berkman Center for Internet & Society at Harvard University and has shown her underwear on Australian television. She currently avoids living in places including Boston, New York, and Melbourne with her husband, author Neil Gaiman, who is easily embarrassed.

Palmer's TED Talk, "The Art of Asking," which she presented at a 2013 TED conference, has been viewed at least 8 million times around the world. You can visit her website and blog at www.AmandaPalmer.net.
Praise For…
---
"Amanda Palmer's generous work of genius will change the way you think about connection, love and grace."
—
Seth Godin
"This is the kind of book that makes you want to call the author up at midnight to whisper, 'My God. I thought I was the only one.'"
—
Jenny Lawson, New York Times-bestselling author of Let's Pretend This Never Happened
"To read Amanda Palmer's remarkable memoir about asking and giving is to tumble headlong into her world. Immediately, you notice that her world is really different from yours and mine. Amanda's world is more open, more vulnerable, more fearless, more messy, more surprising, more dangerous, more rich with human encounters and exchanges at every imaginable level. At first, you find yourself thinking, 'Goodness, what a crazy world that Amanda Palmer inhabits! How does she possibly endure it?' Then, gradually, as you read along, a doorway opens up in your heart, and you realize, 'I want to live in a world exactly like hers.' God willing, this book will show us all how to do it."
—
Elizabeth Gilbert