True Grit: 50th Anniversary Edition (Paperback)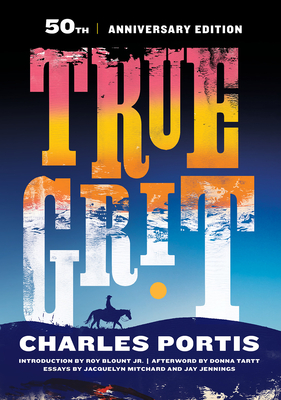 Description
---
The landmark anniversary edition of the #1 New York Times bestselling classic novel, "an epic and a legend" (The Washington Post)

Charles Portis has long been acclaimed as one of America's most enduring and incomparable literary voices, and his novels have left an indelible mark on the American canon. True Grit, his most famous novel, was first published in 1968, and has garnered critical acclaim as well as enthusiastic praise from countless passionate fans for more than fifty years. It was the basis for two award-winning films, including the wildly praised remake by the Coen brothers, selected as a National Endowment for the Arts Big Read Library, and was a #1 New York Times bestseller.

True Grit tells the story of Mattie Ross, who is just fourteen when the coward Tom Chaney shoots her father down in Fort Smith, Arkansas, and robs him of his life, his horse, and $150 cash. Filled with an unwavering urge to avenge her father's blood, Mattie finds and, after some tenacious finagling, enlists one-eyed Rooster Cogburn, the meanest available U.S. Marshal, as her partner in pursuit, and they head off into Indian Territory after the killer.

With a new introduction by Roy Blount Jr., critical essays by Jacquelyn Mitchard and Jay Jennings, and an afterword by Donna Tartt, this 50th anniversary edition cheers and celebrates Charles Portis and True Grit, both true American classics as eccentric, cool, funny, and unflinching as Mattie Ross herself.

About the Author
---
Charles Portis (1933–2020) lived most of his life in Arkansas, where he was born and raised. He was a graduate of the University of Arkansas, which in 2018 awarded him an honorary doctorate in Humane Letters. He served in the Marine Corps during the Korean War, was the London bureau chief of the New York Herald-Tribune, and was a writer for The New Yorker. He is the author of four other novels, also available from The Overlook Press: Norwood, The Dog of the South, Masters of Atlantis, and Gringos. A selection of his writing has been collected in Escape Velocity: A Charles Portis Miscellany.

Praise For…
---
"Skillfully constructed, a comic tour de force."—New York Times Book Review

"How to describe the indescribable? Probably the best description I can give of True Grit is that I've never given it to any reader — male or female, of any age or sensibility — who didn't enjoy it." —Donna Tartt, New York Times Book Review

"Quite simply, an American masterpiece."—Boston Globe

"Rollicking . . . a beaut narrated in the unforgettable voice of Mattie Ross . . . Portis has crazy-cool literary swagger."—Entertainment Weekly

"Charles Portis is an original, indescribable sui generis talent . . . Rereading Portis is one of the great pure pleasures—both visceral and cerebral—available in modern American literature."—Ron Rosenbaum, Esquire

"It's possible that True Grit is the genuine article—a book so strong that it reads as myth."—Ed Park, The Believer

"Charles Portis's True Grit is a masterpiece."—Anthony Bourdain, New York Times Book Review

"The dialogue in True Grit is exquisite."—David Mamet, The Week

"I've always thought Charles Portis had a wonderful talent—original, quirky, exciting."—Larry McMurtry

"An epic and a legend."—Washington Post

"Charles Portis's True Grit captures the naive elegance of the American Voice."—Jonathan Lethem