Leuctra 371 BC: The destruction of Spartan dominance (Campaign) (Paperback)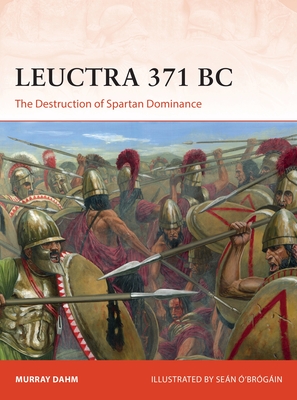 $24.00

Special Order - Subject to Availability
Description
---
This detailed new study explores the battle of Leuctra and the tactics that ultimately led to the complete defeat of Sparta, and freed Greece from domination by Sparta in a single afternoon.

The battle of Leuctra, fought in early July in 371 BC was one of the most important battles ever to be fought in the ancient world. Not only did it see the destruction of the Spartan dominance of Greece, it also introduced several tactical innovations which are still studied and emulated to this day. Sparta's hegemony of Greece (which had been in effect since the Persian wars of 480-79 and especially since the Peloponnesian War in 431–404 BC) was wiped away in a single day of destruction. Sparta would never recover from the losses in manpower which were suffered at Leuctra.

Sparta's defeat created a power vacuum in Greece which several states attempted to fill (the Theban Hegemony and the resurgence of Athens) and gave rise to the dominance of Macedon in the 350s when Macedon would conquer Greece in 338 BC at the battle of Chaeronea. None of this would have been possible without the events at Leuctra. The Theban phalanx at Leuctra, with its great depth of 50 ranks, introduced new tactical thinking in Greek warfare and this thinking eventually led to the Macedonian phalanx of Philip and Alexander which conquered Greece and the Persian Empire less than 40 years later. The Theban commander at Leuctra, Epaminondas, also introduced the idea of drawing up his forces in echelon and fighting with a refused flank – something Alexander emulated in all of his major battles and which has been attempted at countless battles since.

The importance of the battle of Leuctra cannot be underestimated. This superbly illustrated title gives the reader a detailed understanding of this epic clash of forces, what led to it, its commanders, sources, and the consequences it had for future civilizations.
About the Author
---
Murray Dahm is a freelance historian and the author of several titles for Osprey, including Late Roman Infantryman vs Gothic Warrior. He has written more than 50 articles for magazines such as Ancient Warfare, Medieval Warfare and Ancient History. Murray lives in Australia.

Seán Ó'Brógáin lives and works in Donegal, Ireland. He has a BA (Hons) in Scientific and Natural History illustration from Lancaster University, and has worked for a wide range of clients. In addition to his stunning work for Osprey Publishing, he has collaborated with the University of Manchester, An Post, the National Museum of Ireland, the Irish Office of Public Works and a variety of media companies, museums, councils and private individuals.
Praise For…
---
"Dahm's command of the source material is comprehensive and nuanced. He performs that most critical function in both history and law-enforcement/intelligence work – source analysis. He is skeptical and careful in his appreciation of the sources, and reveals a deep understanding of the agendas and personal stories of the writers in question, applying this to his narrative and being sure to alert the reader to those inevitable points (most inevitable in ancient history) where the only data we have must be taken with a rather large grain of salt." - Myke Cole, International Journal of Military History and Historiography