The Last Viking: The True Story of King Harald Hardrada (Reeds Marine Deck) (Paperback)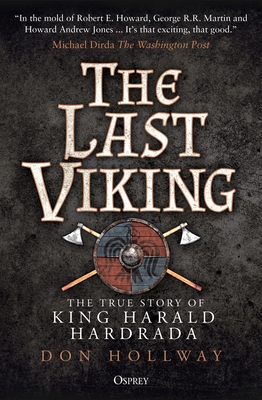 $16.00

Not Available In-Store - Usually Ships from Warehouse in 1-5 Days
Description
---
"[A] riveting story... you owe it to yourself to pick up The Last Viking. It's that exciting, that good."--The Washington Post

A rich and compelling account of the life of King Harald Hardrada of Norway, one of the greatest Viking warriors to have ever lived.

Harald Sigurdsson burst into history as a teenaged youth in a Viking battle from which he escaped with little more than his life and a thirst for vengeance. But from these humble origins, he became one of Norway's most legendary kings. The Last Viking is a fast-moving narrative account of the life of King Harald Hardrada, as he journeyed across the medieval world, from the frozen wastelands of the North to the glittering towers of Byzantium and the passions of the Holy Land, until his warrior death on the battlefield in England.

Combining Norse sagas, Byzantine accounts, Anglo-Saxon chronicles, and even King Harald's own verse and prose into a single, compelling story, Don Hollway vividly depicts the violence and spectacle of the late Viking era and delves into the dramatic events that brought an end to almost three centuries of Norse conquest and expansion.
About the Author
---
Don Hollway is an author, illustrator, and historian. He is also a classical rapier fencer and historical re-enactor. His articles on aviation, history and re-enacting have appeared in magazines including Aviation History, History Magazine, Military Heritage, Military History, Wild West, World War II, Muzzleloader, Renaissance Magazine and Scientific American. His work is also available at www.donhollway.com.
Praise For…
---
"The Last Viking reads like the sagas on which it is based. It's Beowulf on steroids, laced with purple prose...This book is great fun." —Gerard DeGroot, The Times

"[Don Hollway's] book is great fun ... I enjoyed very much reading it." —Giles Coren, Times Radio

"Riveting! Open this book and be prepared to see it through to the end. Fascinating and thoroughly engaging!" —Edward Zapletal, History Magazine

"Don Hollway not only knows the history, he also knows how to tell a great story. The Last Viking is a masterful and pulse-pounding narrative that transports the reader into the middle of the action. Hollway weaves together multiple original sources, and he clearly has a deep understanding of the period. He gives us a convincing and detailed story of this fascinating Viking king." —Carl Gnam, Publisher, Military Heritage Magazine

"The story pulls you in, and doesn't let go." —Stephen Harding, New York Times bestselling author of 'The Last Battle'

"This is a lively and fun retelling of the story of Harald Hardrada, the famous Norwegian king. There is, without doubt, no greater symbol of an 11th-century warrior-adventurer." —Professor Kelly DeVries

"Don Hollway is that rarest of treasures - a nonacademic whose command of the source material and commitment to uncompromising scholarship rivals any PhD. Writing with a pop journalist's flair for story, The Last Viking is a brilliant look at the little known story of one of history's most fascinating warriors, told with the pacing and dramatic flair of the best investigative pieces in Rolling Stone. It's history at its absolute best." —Myke Cole, author of 'The Bronze Lie'

"Hollway is a master storyteller, weaving together Hardrada's life into a biography that you can't put down. His writing draws you in and keeps you coming back for more. The Last Viking reads more like an adventure novel than a historical biography… From beginning to end it is an engrossing and captivating biography that you won't put down! Whether you're a seasoned historian, a newcomer or somewhere in between The Last Viking will make an excellent addition to your library." —MedievalArchives.com

"[A] riveting story... this isn't just a book for military history buffs. If you love Frans Bengtsson's picaresque masterpiece, 'The Long Ships,' Robert Graves's intrigue-suffused 'I, Claudius,' or heroic fantasy in the mold of Robert E. Howard, George R.R. Martin and Howard Andrew Jones, you owe it to yourself to pick up "The Last Viking." It's that exciting, that good." —Michael Dirda, The Washington Post

"Don Hollway tells this astonishing story with immediacy and verve, making use of an enormous breadth of sources ... An engaging and unexpected read." —Country Life