The Blue Salt Road (Hardcover)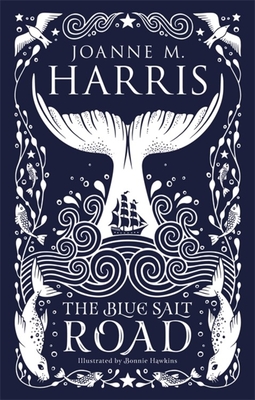 Description
---
An earthly nourris sits and sings
And aye she sings, "Ba lilly wean,
Little ken I my bairn's father,
Far less the land that he staps in.
(Child Ballad, no. 113)
So begins a stunning tale of love, loss and revenge, against a powerful backdrop of adventure on the high seas, and drama on the land. The Blue Salt Road balances passion and loss, love and violence and draws on nature and folklore to weave a stunning modern mythology around a nameless, wild young man.
Passion drew him to a new world, and trickery has kept him there - without his memories, separated from his own people. But as he finds his way in this dangerous new way of life, so he learns that his notions of home, and your people, might not be as fixed as he believed.
Beautifully illustrated by Bonnie Helen Hawkins, this is a stunning and original modern fairytale.
About the Author
---
Joanne Harris is the author of the Whitbread-shortlisted CHOCOLAT (made into an Oscar-nominated film starring Juliette Binoche and Johnny Depp) and many other bestselling novels. Her hobbies are listed in Who's Who as 'mooching, lounging, strutting, strumming, priest-baiting and quiet subversion'. She plays bass guitar in a band first formed when she was 16, is currently studying Old Norse, and lives with her husband and daughter in Yorkshire, about 15 miles from the place she was born.
Find out more at www.joanne-harris.co.uk or follow her on Twitter @Joannechocolat