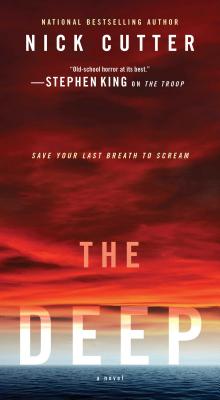 $9.99
Email or call for price.
Staff Reviews
---
If you're prone to nightmares, this book is not for you. This is the kind of horror that gets under your skin and lives there, pumping dread and shadows into your bloodstream, conjuring demons in your psyche. If you're easily frightened, find something else to read. Unless you're like me, and you enjoy being frightened. In that case, dive right in, because you're in for a treat. In this twisted tale of desperation and madness, humanity searches the depths of the ocean for a cure to a confounding and deadly plague. What they find might be worse than the disease they are trying to escape. The Deep is full of torturous ideas and terrifying imagery, a cornucopia of dark wonders to satisfy even the most jaded of horror fans. I cringed. I recoiled. I held my breath. And I loved it.
—
Jason
Description
---
From the national bestselling author of The Troop—which Stephen King raved "scared the hell out of me and I couldn't put it down.…old-school horror at its best"—an utterly terrifying novel that pits the mysteries of The Abyss against the horrors of The Shining.

A strange plague called the 'Gets is decimating humanity on a global scale. It causes people to forget—small things at first, like where they left their keys…then the not-so-small things like how to drive, or the letters of the alphabet. Then their bodies forget how to function involuntarily…and there is no cure. But now, far below the surface of the Pacific Ocean, deep in the Mariana Trench, an heretofore unknown substance hailed as "ambrosia"'—a universal healer, from initial reports—has been discovered. It may just be the key to eradicating the 'Gets. In order to study this phenomenon, a special research lab, the Trieste, has been built eight miles under the sea's surface. But when the station goes incommunicado, a brave few descend through the lightless fathoms in hopes of unraveling the mysteries lurking at those crushing depths…and perhaps to encounter an evil blacker than anything one could possibly imagine.

"Fans of unflinching bleakness and all-out horror will love this novel….Each new shock is freshly disturbing" (Publishers Weekly, starred review).
About the Author
---
Nick Cutter is a pseudonym for an acclaimed author of novels and short stories. He lives in Toronto, Canada.