Splitopia: Dispatches from Today's Good Divorce and How to Part Well (Hardcover)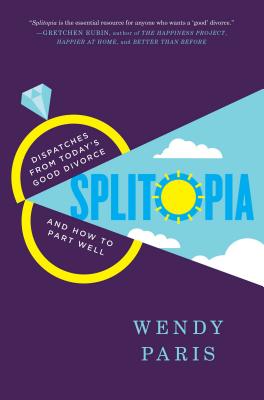 Description
---
Engaging and groundbreaking, Splitopia challenges outdated, negative assumptions about divorce with sharp wit, searing honesty, rigorous research, and intimate interviews, and offers guidance for healthier, happier splits.

When Wendy Paris announced that she and her husband were separating, friends forecast a tsunami of devastation—for both of them and their child. But as Paris would discover, divorce has improved dramatically in recent decades, due to changes in laws and family structures, advances in psychology and child development, and a new understanding of the importance of the father. Yet disapprobation and fear persist.

In this incisive book, Paris cuts through the moralizing and myopia, and explores the new cultural phenomenon of the "good" divorce. Splitopia chronicles Paris's own divorce in real time; shares insights from happily divorced couples, international experts, and the latest research; and follows her own divorced parents' possible reunion. Splitopia calls for a more flexible view of how we wed and how we part, and offers support for creating loving families, whatever the legal relationship status.

Divorce is no one's first choice, but as with other difficult, unwanted experiences, it can lead to growth, deeper connections, and a more fulfilled life.
About the Author
---
Wendy Paris is a journalist and essayist whose work on marriage, relationships, and contemporary culture has appeared in The New York Times, Psychology Today, Glamour, Brides, QZ.com, Salon.com, Travel & Leisure, Essence, and Marketplace radio. She was a 2014 Fellow with New America Foundation, a 2013 Fellow with Encore.org, a MacDowell Colony Fellow, and a Visiting Artist at the 18th Street Arts Center. She has an MFA in creative nonfiction writing from Columbia University and blogs about the good divorce at WendyParis.com and PsychologyToday.com. She and her ex-husband and son moved together, separately, from the New York area to Santa Monica, California, while she was writing this book. Find out more from WendyParis.com and follow her on Twitter @WendyParis1.
Praise For…
---
"Splitopia is the essential resource for anyone who wants a "good" divorce—one that allows both partners to pass through this wrenching transition with mutual respect and affection. Packed with research, insights, and illuminating (and often funny) examples from Wendy Paris's own divorce experience, this book is a practical and reassuring guide to parting well. Divorce isn't a happy experience, but for many people, it can lead to a happier life."
— Gretchin Rubin, author of the Happiness Project, Happier at Home, and Better than Before

"Finally, a book that shows there really can be a good divorce (even after the marriage has turned bad). Splitopia is a great resource and an engaging, moving read by a wonderfully subtle, skilled writer. Drawing on the author's own experiences, changes in divorce law and practice, and hundreds of studies, it has useful advice, helpful hints—and much humor."
— Naomi Cahn, Harold H. Greene Chair, GWU Law School, Coauthor of Marriage Markets

"Splitopia is an important book. Divorce is hard, but there are approaches that minimize the pain and set people on a path to healing. When kids are in the mix, this work is crucial. Great solutions come when you have the benefit of the best thinking in the room, in divorce and in politics. In an adversarial context, that kind of creativity and benefit just can't happen. We need t be able to focus on our shared aspirations. Splitopia suggests a path for how to do this."
— Joan Blades, cofounder of MoveOn.org, Momsrising.org, and Livingroomconversatoins.org

"In Splitopia, Wendy Paris has set out not only to write the essential and supremely practical guide to the good divorce, but to change how we think and talk about the way we dissolve what were once expected to be indissoluble unions. Rather than lasting until death, Paris asks, why not see marriages as successful for lasting as long as they last? Filled with history, research on everything from child development and mediation to loneliness and resilience, and a wide array of engaging stories that themselves serve as a reminder of just how common divorce, and often the bad divorce, is, Splitopia makes a compelling case that it's high time for a new definition of Happily Ever After – for everyone."
— Brigid Schulte, author of the New York Times bestseller, Overwhelmed: Work, Love & Play When No One has the Time

"A smart, thoughtful, and well-written antidote to the popular idea that divorce is a toxic event for parents and children. Think of it instead as a family reorganization – a period not just of crisis but also of opportunity for growth and development. Paris shows that a carefully planned and thoughtfully executed divorce can result in a better quality of life for parents and children. She is particularly astute in recommending that couples consider innovative options for the legal aspects of their divorce such as mediation, unbundled legal services, and collaborative law. They help couples avoid protracted courtroom combat that can become all-consuming for them and their children, make wise choices for the future,and get on with their lives productively."
— Andrew Schepard, Max Schmaltz Distinguished Professor of Law|Director Emeritus of the Center for Children, Families and the Law and Editor, Family Court Review, Maurice A. Deane School of Law at Hofstra University

"Combining personal insights, stories, and research, Wendy Paris created a smart and interesting guide that can be extremely helpful for those going through divorce."
— Tal Ben-Shahar, positive psychology lecturer and teacher, author of Happier

"A good divorce is possible. Wendy Paris makes that case and explains how. Through Splitopia's compelling stories and deep research, we gain insight into marriage, separation, and life well-lived."
— Shane J. Lopez, PhD, author of Making Hope Happen

"Splitopia is a wonderful blend of storytelling and social science -- a book that amuses and captivates while dispensing shrewd advice based on solid psychological research. It's a practical guide that also lifts the spirit. Breaking up is hard to do, but reading Wendy Paris is a pleasure."


— John Tierney, co-author of the New York Times bestseller Willpower: Rediscovering the Greatest Human Strength.

"This a wonderful book. I think anybody going into a relationship should read this. In many ways, this may be the most comprehensive approach to relationships that I've seen."
— Tonio Epstein, host of National Public Radio's "Magical Mystery Tour"

"Paris is like an older, wiser friend who cheerfully shares her advice and counsel. Particularly useful as a guide for clients, Splitopia also provides valuable insights for lawyers on how our clients might be experiencing divorce and on the types of non-legal advice we might provide to support them outside of our offices."
— Naomi Cahn and Jana Singer

"[A] litany of doom is the prevailing divorce narrative, perpetuated by pundits, popular culture, and moralizers. Paris is having none of it. In Splitopia, she does not tiptoe over the heartache or the pain of ending a marriage, but she does gift us with a compassionate, compelling, carefully-researched account of a new and more humane story of divorce—one in which the main characters can become better people in the end. Paris is an engaging storyteller and gifted teacher."
— Bella DePaulo